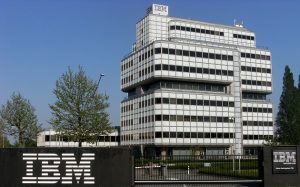 When it comes to digital transformation, sectors like the Banking, Financial Services and Insurance (BFSI), and telecom, will become the growth engines for India and IBM is ready to meet the technology requirements, a top company executive said.
IBM organised a two-day "The THINK Forum" in Mumbai on February 12-13 attended by senior IBM and key business leaders from across the country who discussed the future of business and technologies that will shape the economy and society.
When it comes to skilling and preparing a workforce for New-Age technologies like Artificial Intellignece (AI), robotics, Big Data and IoT, IBM is working with some of the state governments via skill development centres.
"We are also in talks with NITI Aayog and other learning and development organisations to understand what is the platform that we can put in place to skill more people," Lula Mohanty, Managing Partner, IBM Global Business Services told IANS.
IBM recently announced a collaboration with the Telecom Sector Skill Council (TSSC) to spur emerging technology skills in the domestic telecom industry.
IBM's student developers' programme (career education) that infuses software capabilities that are industry-specific and market-relevant has helped more than 24,000 students and faculty members develop industry-relevant software capabilities.
Present in India since 1951, IBM India has expanded its operations with regional headquarters in Bengaluru and offices across 20 cities.
With the aim to help Indian enterprises deliver next-generation consumer experiences, global consulting agency Bluewolf, an IBM company, also announced a new practice in the country with "Salesforce", a global leader in the customer relationship management (CRM) solutions.
The dedicated practice will leverage Bluewolf's expertise and delivery capabilities in Augmented Reality (AR) and innovation strategy — combined with IBM's leadership in cognitive and design-thinking with "Watson" — to help clients connect customer experience to value.
"We will continue to double our investments in the country. We welcomed our 1,000th employee in India in November last year. We will hire 1,000 more employees in Hyderabad alone by 2020," Sunil Jose, Senior Vice President and Country Leader, Salesforce India told IANS.
Highlighting the strategy for the country, he said: "To drive business value, success and growth for its customers, Salesforce will focus on customer-centric digital transformation."