A Change is a much-needed activity in every niche and areas of the society and its workflow. With consistent changes in the market, we came across so many new terms such as evolution, revolution, upgrade and update. One of the biggest makeover to the working segment and modenisation in societies was achieved with the advent of digital transformation in almost all sectors of work. Digital Transformation is more precisely not just an evolution rather a very progressive and day by day updating methodology of work too. Newgen Software Technologies, a very big player in digital transformation technology is a vendor/provider of Business Process Management, Enterprise Content Management, Customer Communication Management, Document Management System, Workflow and Process Automation software. ELE Times Correspondent Mannu Mathew spoke with Virender Jeet, Senior Vice President (Sales & Marketing / Products) Newgen Software, to know about the current situation and trends in the digital transformation.
Following are the excerpts of the conversation: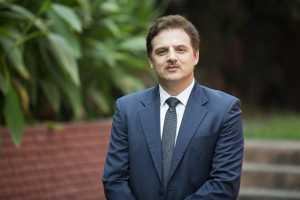 ELE Times: With everything transforming from Analog to Digital, how far has this change affected the working of organisations today?
Virender: The pandemic has made it imperative for organisations to adopt digital, enable process automation, and support remote connectivity for employees while ensuring secure access to relevant information and documents. Enterprises across industries are devising strategies to keep employees engaged and motivated while working from home. Virtual meetings, townhalls, and online team-building exercises have become the norm.
Organisations have responded quickly to the changing business needs by accelerating their digital initiatives to stay connected and competitive in a physically disconnected world.
While cloud had already gained prominence, COVID-19 has exponentially increased its importance due to the benefits of lower cost of ownership and anytime, anywhere operations. Organisations are also relying on modern technologies like artificial intelligence (AI) and machine learning (ML) to increase their operational efficiency and drive intelligent decision-making.
ELE Times: Financial transactions and money handling today have become the new normal. How safe and secure are digital transactions in today's market?
Virender: Cash and currency notes could act as potential agents for infection, resulting in the rapid adoption of digital transactions. The rise in digital payments has made it imperative for financial institutions to strengthen their security and fraud control frameworks to prevent malware, phishing, duplication of SIM cards, and theft of assets and personal information.
Financial institutions are running campaigns to make consumers aware of the potential risks and the safe ways of conducting virtual transactions. They are increasingly adopting a layered defense strategy to eliminate unauthorised access by implementing new safety measures for cybersecurity, including multifactor authentication through 3D secure biometrics. Many large banks are using AI and ML to detect irregularities and trigger alerts to stop suspicious transactions in real-time.
ELE Times: Elaborate on the innovations and latest products from your side catering to the needs of digital transformation.
Virender: Across the globe, governments announced several relief packages for small businesses affected by the COVID-19 pandemic. We recognised the time-sensitivity for this and immediately responded to our customers' needs by enhancing and customising our Newgen loan origination software for each geography. The software helps financial institutions to promptly process loans to their small business customers while complying with the regulatory requirements. We have implemented the loan origination software for SBA Payment Protection Program in the US and launched the software for the SME Guarantee Scheme in Australia and the CBILS Quick Loans Onboarding Solutions in the UK.
Recently, Newgen quickly developed a case management software for processing whiplash claims in the UK by leveraging the low code capability of our digital automation platform. The software will enable legal organisations to manage dynamic processes and drive smarter decision-making while offering speed and agility.
ELE Times: What is your opinion on digital transformation? A blessing or a curse!
Virender: Digital transformation is a blessing and the current crisis has reiterated its importance. Organisations came to realise that a resilient digital backbone is critical to maintain business continuity during crises and drive stronger business growth. Today, digital has become a fundamental requirement for organisations across industries and geographies.
Digital transformation has allowed enterprises to enable remote operations for their employees and deliver uninterrupted services to their customers. Enterprises are going live with new projects, capturing client requirements remotely, and successfully conducting online demos. Customers today are expecting a touchless experience, and digital has enabled organisations to deliver the same quality of services without putting the customers' safety at risk.
ELE Times: Please comment on "Future of Digital Transformation and time taken to fully revolutionise the process of digitisation".
Virender: Enterprises need to make digital transformation an integral part of their strategy to future-proof their operations. Core to this strategy will be the adoption of a digital automation platform that bridges organizational silos, allows rapid application development, and connects content, processes, and communication. Such a platform can automate end-to-end processes by leveraging modern technologies, including business process management, robotic process automation, AI, ML, and cloud.
Many global economies, including India, are witnessing a rapid wave of digitisation to keep up with changing business scenarios and evolving consumer expectations. Organisations must reinvent their business to enable agility, facilitate sustainability, and deliver a superior customer experience.
By: Mannu Mathew | Sub Editor | ELE Times