Courtesy: Avnet
While large, traditional telecom operators will shape the 5G market, private and hybrid networks – a combination of private and public – could help underserved groups achieve their connectivity goals.
The development of 5G coincides with a trend toward precision agriculture. Technology is being used to improve the farming industry. Precision agriculture uses automation to increase the efficiency of traditional agricultural activities.
The success of precision agriculture relies on connectivity. 5G networks offer a good solution, but farms typically exist in sparsely populated areas. This makes them low priority for larger network operators. But interest is growing now to address farming's 5G connectivity challenges.
Network slicing can address the cost of private networks. Network slicing enables several virtualized networks—each optimized for a particular application—to operate over common, shared hardware.
Market opportunity for precision agriculture
A Statista research report predicts that the worldwide precision agriculture business will be worth $8.7 billion in 2023, rising to $14.4 billion by 2027. This growth will be dependent upon the availability of high-speed communications networks. It's perhaps no surprise that the U.S. Department of Agriculture (USDA) has invested heavily in rural broadband, the latest tranche of grants and loans coming from their ReConnect Round 4 program (applications closed Nov. 2, 2022) and worth $1.15 billion.
Although not agriculture-specific, the Federal Communications Commission (FCC) launched a Rural Digital Opportunity Fund in January 2020. This is a $20 billion investment over 10 years to improve connectivity for homes and businesses in rural areas. In 2020, the FCC also announced a planned $9 billion fund for 5G for Rural America, of which $1 billion is for precision agriculture.
Private 5G networks in agriculture
Rural deployment of 5G is unlikely to be a priority for public network operators, so private 5G is emerging as a viable alternative. Private networks are essentially scaled-down versions of the networks operated by national carriers. Wireless spectrum may be purchased or leased. In the U.S., there is a third option: to license spectrum free of charge under the Citizen's Broadband Radio Service (CBRS). This is a 150MHz band in the 3.55GHz to 3.70GHz range.
Private networks deliver an unprecedented level of control and perhaps greater data security than using public networks. Privately owned and operated networks can also be less costly when scaling up the number of endpoints, such as sensors.
What are the costs of private 5G deployment in agriculture?
The cost of network deployment is falling. One contributory factor is open radio access networks (OpenRAN). Open RAN standards facilitate interoperability between network component vendors through the disaggregation of hardware and software. It promises greater hardware and software component interoperability because it is vendor agnostic. It also reduces costs because the hardware elements are commercial off-the-shelf (COTS) server hardware available from multiple vendors. A simplified comparison of conventional and OpenRAN architectures is shown below.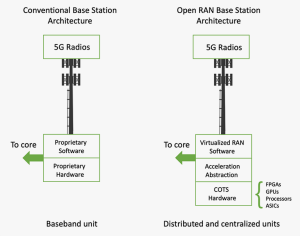 This diagram shows how conventional cellular base station architectures compare with an OpenRAN approach. The lack of proprietary technology creates a more accessible and competitive architecture.
A 2022 report by CoBANK, a U.S. national cooperative bank, modeled the cost of providing private 5G networks to a notional group of 50 representative farms of 8,000 acres each. Based on using free unlicensed spectrum for networks, the report estimated total capital expenditure at $27 million with operating costs thereafter of $300,000. That works out at $54,500 upfront for each farm and annual recurring costs of $6,000.
When you consider that the largest new combine harvesters now cost between $900,000 and $1 million (prices as of May 2022), the broadband outlay is a modest one.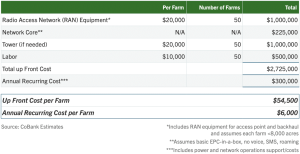 Table above shows CoBANK's estimate of the CAPEX and OPEX for agricultural 5G private networks.
How 5G partnerships benefit the agricultural industry
The cellular radio industry has been quick to form partnerships and alliances to help develop private networks, which are then sold or leased to farms.
Inland Cellular and Trilogy Networks
Idaho-based Inland Cellular, a wireless carrier, has teamed up with Trilogy Networks (Boulder, Colorado) to offer cellular connectivity, including 5G, to Trilogy's FarmGrid cloud-based, edge-compute platform for farmers.
FarmGrid captures and analyses sensor data and then delivers actionable insights to enable farmers to make real-time productivity decisions. It provides secure connectivity, cloud processing and an app store.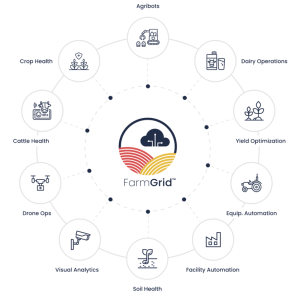 Ericsson and Iowa State University's Testbed
In June 2022, Ericsson announced that it is supplying 5G equipment for Iowa State University's research into precision agriculture, rural broadband, renewable energy and public safety. The test bed is a proving ground for 5G network ecosystems. It is run by the Agriculture and Rural Communities organization and supported by the National Science Foundation.
Field Solutions Holdings, Nokia and Mavenir
In Australia, Nokia and Mavenir, a cloud-native communications software vendor, have teamed up with rural carrier, Field Solutions Holdings (FSG), to deliver cellular networks across rural Australia. FSG has secured spectrum licenses and claims that the services will cover 85% of Australia's landmass. The project will comprise 19 networks operating over 100 4G/5G sites and services will include voice, data, NB-IoT and CatM1.
Australia uses over half of its land for agriculture, so the country represents a great business opportunity for 5G technology companies and agriculture service providers.
Conclusion
Agriculture is one of the largest industries that could see significant benefits from services delivered over 5G networks.
The convergence of these factors promises to create substantial new revenue opportunities:
Massive IoT data from sensors
Artificial intelligence for turning this data into actionable insights
High-speed, low-latency cellular networks that deliver near real-time performance over vast distances
As OpenRAN takes hold, the hardware of 5G networks will be more commoditized. That will create a growing demand for processors, FPGAs, GPUs, SoCs, RF ICs, the plethora of passive and electromechanical components, and discrete semiconductors that always accompany these devices.
In every sense, private 5G networks represent a growing business.