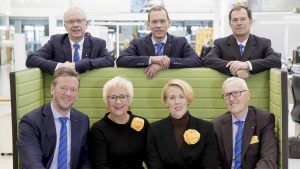 Sales increase by 3.4% to € 586 million / Growth meets forecast / 58 new jobs created worldwide / Extremely positive response to HARTING MICA and HARTING ix Industrial / Expansion in Romania for electromobility (direct supplier for VW Group) / Record investments of approximately €50 million in the current fiscal year / 2017: HARTING represented at Hannover Messe trade show for 70 years
The Espelkamp-based HARTING Technology group (Minden-Lübbecke district) remains on a clear path for growth: sales during the recently ended 2015/16 fiscal year (September 30) rose by 3.4 % to €586 million (previous year: €567 million). Excluding negative currency effects, growth would have amounted to 3.9%. That said, total sales nevertheless reached a new record high. Growth at the company is thus in line with the cautious forecast made by HARTING Board Chairman Philip Harting at the last annual press conference, held in December 2015.
"It was a challenging year. Since our growth was exclusively organic, the entire HARTING Board of Management is satisfied with the surplus. Consequently, we converted our announcement of the past year into a reality," says Philip Harting, Board Chairman of the technology group.
The company's business developed differently in the various worldwide regions where HARTING operates. In Europe, excluding Germany and the Middle East (EMEA), sales rose by an outstanding 9.8% to €201 million (previous year: €183 million). The jump in sales was first and foremost the result of orders from Southern Europe and Russia. By contrast, total sales in the other regions remained at the previous year's level, e.g. in the Americas region. Sales there totalled €60 million (previous year: €61 million). Sales in Asia rose slightly, to €130 million (vs. €129 million). Germany also notched up slight sales growth, with the figure climbing to €195 million (previous year: €194 million). The HARTING Technology Group continues to generate two-thirds of total sales (around 67%) abroad.
"We had to fight for every order, for every euro in sales. In a market which is growing only slightly, prices are inevitably under pressure. Consequently, we're looking to gain market shares via numerous new products," said the Board Chairman.
Cautious optimism for the 2016/17 fiscal year
"The technology group has entered the new 2016/17 financial year strong," Harting further emphasised. "A significantly stronger fourth quarter makes me confident that we'll achieve stronger growth again in the current financial year – thanks to new products and solutions, too," he continued, citing the examples of the new modules for the Han-Modular and the new HARTING ix Industrial, M8 and HARTING T1 Industrial mating faces.
In April of this year, HARTING won the prestigious HERMES AWARD for its HARTING MICA. This victory has given the entire technology group a boost, Philip Harting explained, citing joint projects with such prestigious companies as IBM, Microsoft and DEKRA. "The market introduction of the HARTING ix Industrial connector, developed by HARTING together with Japanese technology company HIROSE, has also been very well received by the market and attracted significant attention from the competition. We have taken a big step forward," Harting continued.