Ferrites is the core component in many of the paramount industries be it Automotive, Solar, Electric Vehicle or Electronics. According to most recent analysis, the global Ferrite Magnets market size will reach USD 4496.8 million in 2028, growing at a CAGR of 2.8% over the analysis period. The ferrite core features high electrical resistance and outstanding magnetic characteristics in high-frequency range although saturation flux density is slightly lower than other soft magnetic materials.
World is big market of ferrites majorly focused in China and Japan, though India is not lagging behind. With our focus on Make in India in every industry, we try to manufacture our own components in India. Ferrites being the common used material in most of the electrical component, needs more emphasis and value in the manufacturing Industry.
ELE Times correspondent & Sub Editor Sheeba Chauhan has an exclusive conversation with Pankaj Poddar, Group CEO, Cosmo Ferrites on these talk points. Cosmo Ferrites Limited, one of the leading manufacturer and exporter of soft ferrites, was established in 1986 with its state of art manufacturing facility in the foothills of Himalaya.
Excerpt: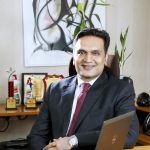 ELE Times: How Cosmo Ferrites is investing in augmenting our R&D Strength as well as Infrastructure?
Pankaj Poddar, Group CEO, Cosmo Ferrites – We at Cosmo Ferrites have invested our focus and energy in upgrading both our R&D Infrastructure as well as R&D capability by investing in new equipment and hiring more resources in our R&D function. We successfully commissioned several equipment this year in our R&D Lab which will help us in faster development of new products & applications.
ELE Times: What could be the possible potential for Ferrites Growth in India considering the boom expected in the Electronics industry in India based on the Government's several initiatives? –
Pankaj Poddar, Group CEO, Cosmo Ferrites -There is significant potential for growth of Ferrite manufacturing in India with increasing localization and push of the Government to make India an Electronics hub. The Government with its various schemes of PLI, SPECS and other schemes has shown the intent to give Electronics manufacturing a major push. The World is also looking at a China + 1 Strategy and India is in a sweet spot as far as Electronics manufacturing is concerned with the recent policy announcements to drive production of Electronics within the Country.
ELE Times: Do you think major growing industries in EV, Solar, 5G and also increasing automation & Digitization will drive demand for Ferrites globally?
Pankaj Poddar, Group CEO, Cosmo Ferrites- Yes there is already a push towards Electric Vehicles, Solar, 5G and more automation & Digitization. With the advent of IOT and 5G technology in India, the demand for semiconductor chips is on the rise. This will help create the complete ecosystem for Electronics manufacturing in India and further drive the demand of Ferrites. Moreover, similar trends are seen globally as the World is moving towards Sustainable alternatives of Fuel, Power and these applications will drive the demand of Ferrites globally.
ELE Times: Will PLI schemes on manufacturing, semiconductor industry, and many other aspects will increase the production of Electronics in India leading to localized growth as well as export potential? 
Pankaj Poddar, Group CEO, Cosmo Ferrites -The Government recently outlined the $300 billion electronics production vision document in January which aims to make electronics India's third largest exports category exponentially expanding exports to $120 billion from the current $10.6 billion. This will also create significant growth opportunities in India for local consumption as well as exports. All schemes of government like SPECs, PLI, etc. are a step towards this objective.
ELE Times: The PLI for White Goods will significantly increase the production of Air Conditioners in India and hence the demand for both active and passive components. What are your thoughts on the same?
Pankaj Poddar, Group CEO, Cosmo Ferrites -The Government in November last year selected 42 companies under the PLI Scheme for White goods to drive the production and export of Air conditioners and LED Components in India. The objective is to create a complete eco system for White Goods (Air conditioner manufacturing and LED manufacturing) and will lead to manufacturing components across the complete value chain. This will create demand for both active and passive components. Cosmo Ferrites was already supplying Ferrite cores for LED manufacturing and has also started supplying Ferrite cores to be used by Air Conditioner manufacturers. In fact Cosmo Ferrites is also amongst one of the approved applicants under this scheme for promoting manufacturing of White Goods (Air conditioners and LED components).
ELE Times: After the FM Nirmala Sitharaman's announcement of the Union Budget, industries have planned their major investments throughout the year. What are Cosmo Ferrites' possible plans for the year?
Pankaj Poddar, Group CEO, Cosmo Ferrites -Cosmo Ferrites is already in the process of expanding the capacity by 50% from Q1 of next financial year. This expansion was kicked off in Q2 of the current year wherein the Company is planning to expand the Soft Ferrites manufacturing capacity by 50% from Q1 of next financial year. Since there is significant push to increase electronics manufacturing in India, so Cosmo Ferrites will continue to evaluate and expand to capture a reasonable size of the global market since it is already a leader in Soft Ferrites in India and also exporting globally to more than 50 countries.
Sheeba Chauhan | Sub Editor | ELE Times