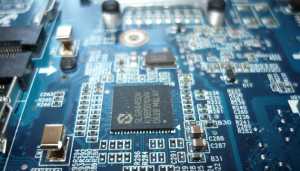 Introduction
Each and every electronic component in the market is massed through an array of steps and processes, these processes and steps are completed by the so called building blocks of the industry- The component Market. An electronic component is any basic discrete device or physical entity in an electronic system used to affect manufacturing or their associated fields. Electronic components are mostly industrial products, available in a singular form and are not to be confused with electrical elements, which are conceptual abstractions representing idealized electronic components.
The trade for electronic component is increasing globally at a rapid pace. This is to a considerable extent, due to global demand in Information and technology sectors and the dramatic growth for smart mobiles, automobiles, industry machinery and infrastructure. It is predicted that the Internet of Things is all set to bring more laurels even in the component market sector.
The Global Electronic Component market provides a basic overview of the industry including definitions, classifications, applications and industry chain structure. The Global Electronic Component market analysis is provided for the international markets including development trends, competitive landscape analysis, and key regions development status.
The advancement in active electronic components have given rise to micro electro mechanical system. Managing the cost of raw materials remains a top priority to the manufacturers. Although the cost of raw material used in manufacturing has eased somewhat.
Functioning of global component sectors for product development
Electronic components are a vital part of the manufacturing process of electronic goods. The quality of components used in the manufacturing process can determine the performance of the product as well as its durability. Faulty electronic parts can cause an end product to malfunction and even stop working very early on in its product life-cycle. The component market is segmented on the basis of product type and end users. On the basis of product type, the segment is further classified into semiconductor devices, optoelectronic devices, display technologies, vacuum tube and others. On the basis of end user the segment is further classified into consumer electronics, healthcare, automotive, aerospace and defence, information technology and others.
The regional analysis of electronic component market is being studied for regions such as Asia pacific, North America, Europe and the rest of the world. North America is one of the leading regions across the world in terms of market share in active market component market due to the huge demand in security and business intelligence which is propelling the market growth of active electronic component.
While discussing with ELE Times on the status of current component market, Vinod Sharma, Managing Director, Deki Electronics precisely mentioned that the automotive industry as well as the mobile manufacturing industry has flourished enormously because of its good local component base. Mr. Vinod further said "the effect of import of component from various parts of the world has affected the Indian Market, as nearly 60 to 70% of the requirement is imported, this is because of a non-level playing field .Indian components suffer a disability of 10-15% due to high cost of capital, high cost of power and high cost of logistics". Deki Electronics, one of the finest component manufacturers works in the areas of major product like Electrolytic Capacitors, Resistors both leaded and SMD, SMD capacitors, MOV, Inductors,  IC's and Diodes.
The Electronic Components industry concentration is not high; there are more than one thousands manufacturers in the world. Company mergers and acquisitions, and inter-companies cooperation have occurred for development and growth. As the downstream consumption usually follows with developed and rapid economic growth areas, companies prefer investing in underdeveloped regions. The worldwide market for Electronic Components is expected to grow at a rate of roughly 5.6% over the next five years. World electronic component demand will grow over nine percent annually based on further development of the Internet, new generations of handheld and wireless computers, and rising electronic content in original equipment. Component Market provides key statistics on the market status of the electronic components and is a valuable source of guidance and direction for companies and individuals interested in the Electronic Components Industry.
The global market revenue for electronic components is expected to touch US$773 billion by the end of 2020. In recent times, active components and associated components have witnessed significant growth. While the industry composition is not predicted to change substantially, there is a rapid decline in products such as cathode ray picture tubes and CDs/DVDs, which had till recently constituted a significant share of the manufacturing base and market. This is an outcome of advancing technology and consumer preferences.
Studies have unanimously revealed that the electronic components produced in India include components such as transformers and coils, diodes, transistors, resistors, capacitors, switches, relays, connectors, magnetic heads and so on. Today, India has a strong industry for these components and is upgrading new technologies such as LED/LCD and solid-state storage devices to keep the market share consistent and growing at all times.
Industry perception and market prominence
Consumer durables and telecommunication accounts for the major demand for electronic components in India followed by information technology and office automation and automotive industries. Other application industries like industrial electronics, medical electronics, strategic electronics and lighting industry contribute to the balance of the market.
Industries like lighting and strategic electronics are expected to witness substantial growth in the near future. The electronics industry is going through an exciting phase with growth in demand and importance of electronics as well as revolutionary changes in technology, launch of innovative products and the challenge of global competition. This has necessitated the electronic product and component manufacturers to focus on continuous improvement in their products in order to stay ahead of the pack.
Delhi based Singodia Electronics is a leading distributor in the component market industry. The company caters to areas such as Inverter/ UPS systems, Telecom, Industrial Electronics etc. and is a major and prominent supplier of power relays and signal relays for the industry segment. The company's Business Development and Sourcing Head, Parul Saini believes that the component industry including relays have a huge scope in Indian market as the total production of electronics sector is expected to grow at 27% CAGR by 2025, according to report generated by various industry associations. Growth in GDP and manufacturing, policy support and increasing investments are driving the growth of electronics sector in India.
Consumers are becoming increasingly technology-conscious and are demanding products with built-in intelligence. This is resulting in electronics and consumer durable products being manufactured with intelligent functions and logic. Intelligence has moved beyond consumer products, and is also available in several medical and industrial electronics products with computer-numerical-control functions.
Consumers are the major resource generator for a successful component market industry. Every household appliances as well as major functionaries in the aspect of consumers have always helped the component market and its relevance is increasing day by day. Commenting on consumer interest, Subhash Dewan, CMD, Dewan Radios mentioned that the quality products that they stock, sell and distribute are all lead free and meet stringent quality specifications. The company's core strength is ex-stock availability of large moving inventory and vast range in distribution products for everyday application.
Dewan Radios has been a constant supplier of components in consumer application which accounts for the products such as UPS, Invertors, SMPs, Power Supplies, Energy-Meters,  Switch Gears,  AC/DC Drives, P.A. Amplifiers, Mixers DJs & Audio Systems, Metal detectors, CFLs & LED lighting, Fan regulators, Digital & Analog Panel Instruments, Welding, Conduction-cooled & Induction heating, Refrigeration,  X-rays, ECG , EEG, Infra-red & Ultrasound medical equipment etc.
Future prospect and apprehensions
Technology is expected to change the landscape for electronic components manufactured each and every day. Traditional components will increasingly face stiff competition from passive chip components, integrated circuits and surface-mount technologies that will replace these in several electronic products. Active electronic components include display devices, semiconductors devices, and others. Further, the increasing demand for display devices such as cathode ray tubes, microwave tubes, X-ray tubes, and others is fuelling the growth for active component segment in recent years.
Additionally, the rising demand for miniaturized electronic components in smartphones, personal digital assistant (PDA), and tablets is driving the demand for the segment. An increasing use of components in applications such as satellite and space technology, military applications, and others is creating opportunities for the electronic components market during the forecast period. However, the lack of suppliers of electronic components is hampering the growth of the market in recent years. Asia Pacific dominated market is expected to show a similar trend during the forecast period. China is leading the Asia-Pacific market, as it is the home to the world's largest chip designers, chipmakers, and suppliers of routers, camera lenses, and other critical components that are used in laptops, smartphones, and other internet of things application.
These are countless inventions which use electronic components. Home appliances, computers, and also the internet use it to run efficiently and smoothly. In accordance with the Market, there are a couple of factors that are driving the Active Electronic Components Market.  These include growing consumption trends for smartphones as well as other wearable devices, the development of IoT, escalating demand for smart automobiles, infrastructure, industrial machinery and addition of new applications in the future days to come. The future is clearly bright and stable for the component market industry.
By: Mannu Mathew | Sub Editor | ELE Times