Bangalore based fabless semiconductor company Cirel Systems has announced the availability of its ultra-low power, Power Management IC (PMIC) CSPM6001 for IoT and wearable systems.
The PMIC integrates an ultra-low power buck converter, several LDOs, battery charger and fuel gauge into a single chip, making it a versatile battery management solution for a wearable system or IoT system using small Lithium Ion rechargeable batteries.
"We have developed one of the industry's lowest power solution for battery and power management in systems using 50-500mAh Li-ion batteries" said Sumeet Mathur CEO of Bangalore-based Cirel Systems.   The low power on the buck and LDO was achieved by novel architectures without compromising on solution size or external component requirements.  To achieve low power for the entire PMIC as a whole user programmable low power modes are supported. "Our PMIC consumes only 3 µA in the deep sleep mode and under 7 µA in the active mode where all the regulators and chip functions are enabled giving system designers options to optimize the power of Always ON functions. The device also features comprehensive temperature monitoring and control capability at the die as well as the system level. This feature is important for wearable applications especially the ones that contact the human skin", said Venkataraman Srinivasan VP Engineering at Cirel Systems.
The PMIC comes in a 3.2mmx3.2mm Wafer level chip scale package (WLCSP). Cirel Systems announced that the product samples and evaluation boards are available for the CSPM6001.
Functions integrated on the CSPM6001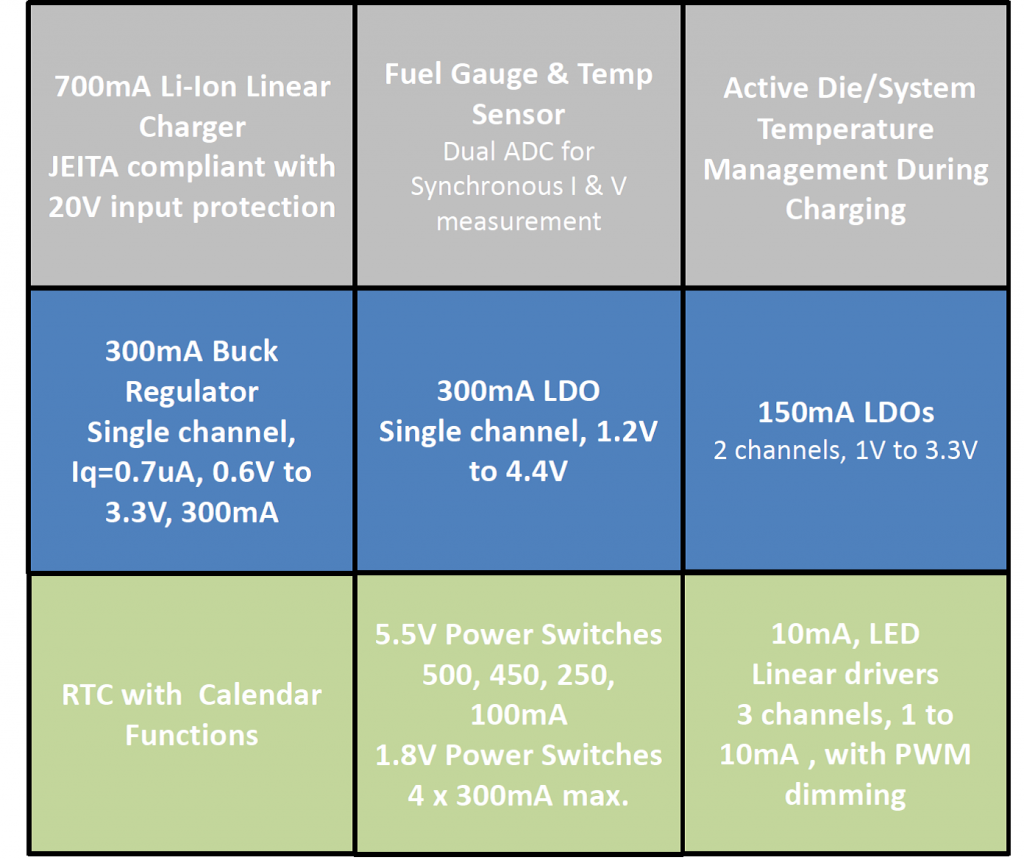 For further information contact ic@cirelsystems.com