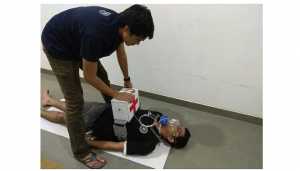 In India, over seven lakh people are killed due to sudden cardiac arrests. That means, around 2,000 people die per day and about 80 every hour.
In order to stop such cases, Kratika Bhagtani and Karthik Karvarje, two students from IIT Gandhinagar have developed the prototype of a portable mechanical CPR (Cardio-Pulmonary Resuscitation).
How does the device work?
The portable CPR is a compact and mechanical device that performs chest compressions at a proper depth and optimal rate, ventilates lungs, maintains an open airway, and indicates the compression rate.
Weighing less than 1 kg, the CPR device is similar to the size of a laptop. The device requires rotating the handle and is simple to use. This manual operation can be replaced by a small electric motor as well.
What makes this device unique?
A regular CPR device in hospitals costs more than Rs 4,00,000, but this prototype was built in just Rs 6,000 with the help of 3D printers and cardboard-like material. If commercialised, it would not cost more than Rs 10,000.
Kratika and Karthik feel that this portable and cost-effective mechanical CPR can prove to be a boon for cardiac patients in public places.