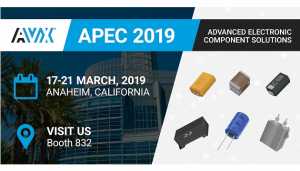 AVX Corporation, a leading manufacturer and supplier of advanced electronic components and interconnect, sensor, control, and antenna solutions, is presenting and exhibiting at APEC 2019, which will take place in Anaheim, California, March 17–21, and provide attendees with five full days of technical sessions designed to address topics of both immediate and long-term interest to engineers in the applied power electronics industry.
AVX Technical Marketing Manager – Tantalum, Chris Reynolds, will deliver an APEC Exhibitor Seminar presentation that addresses industry-wide MLCC component shortages and potential solutions, "MLCC and Tantalum Electrolytic Capacitor Interchangeability in High-Capacitance Applications," at 1:30pm on Tuesday, March 19, in Room 212AB.
New AVX Power Components on Exhibit at APEC 2019
AVX's new TWA M39006 Series wet electrolytic tantalum capacitors are qualified to MIL-PRF-39006/33A and deliver high-reliability, high-CV performance in harsh-environment military, defense, avionics, and industrial applications, including satellites, DC/DC power supplies, power converters, bulk energy storage, and pulse power circuits. Featuring a cylindrical, axial-leaded case with a hermetically sealed welded tantalum can and header assembly that ruggedly withstands environmental hazards including shock, vibration, and temperatures extending from -55°C to +125°C, as well as a unique cathode system that provides impressively high CV/cc and stable electrical parameters, the series offers high-reliability performance in voltage ratings spanning 25–75V, capacitance values spanning 470–1800µF, and T3 and T4 case sizes with M-level reliability (i.e., failure rates of 1% per 1,000 hours).
AVX's new AEC-Q200-qualified F9H Series tantalum capacitors are designed to deliver high reliability and high volumetric efficiency in high-temperature automotive and industrial applications and offer the industry's highest CV/cc in a high-temperature 1206 tantalum capacitor: a 10μF/16V rating. The new miniature, surface-mount, J-lead tantalum capacitors meet AEC-Q200 requirements, deliver twice the reliability of standard automotive-grade capacitors, are RoHS2 compliant, and are rated for 10–47μF, 16V, and operating temperatures up to 150°C.
"APEC is the premier annual event for any and everyone involved in the power electronics industry," said Reynolds. "We have been active participants in this conference for many years and are very much looking forward to this year's conference, as there's always a lot of great technical presentations and networking opportunities, and the expo gives us an excellent opportunity to introduce both current and potential customers to our newest power component solutions, which are always developed with the industry's latest design demands in mind, if not especially designed to solve an existing application issue."
Additional AVX exhibition highlights include a supercapacitor-powered demonstration, a wide range of sample kits showcasing the company's various tantalum, ceramic, power film, and supercapacitor product portfolios, and several promotional giveaways to thank attendees for stopping by to chat with the engineering team.
For more information, visit: www.avx.com