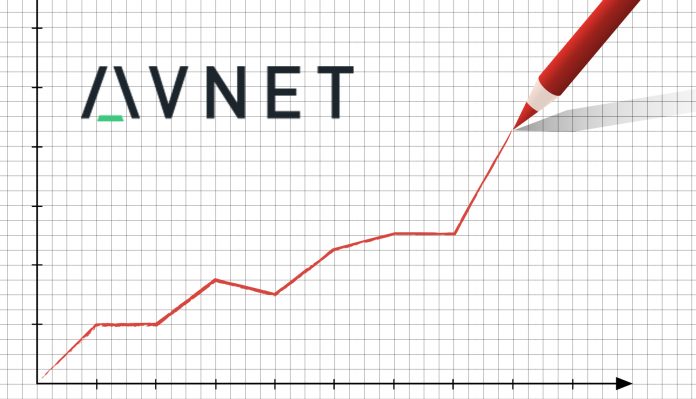 Avnet, Inc. April 27, 2017, announced results for the third quarter fiscal year 2017 ended April 1, 2017.
Diluted earnings per share from continuing operations of $0.69

Adjusted diluted EPS from continuing operations of $0.88

Premier Farnell sales exceeded expectations and contributed to margin expansion
Completed sale of Technology Solutions for ~$2.4 billion in cash and ~$250 million in Tech Data Corporation shares
Paid down ~$1.8 billion of debt and increased share repurchase authorization by $500 million
Accelerating ERP depreciation charges of approximately $18 million in FY17 and $72 million in FY18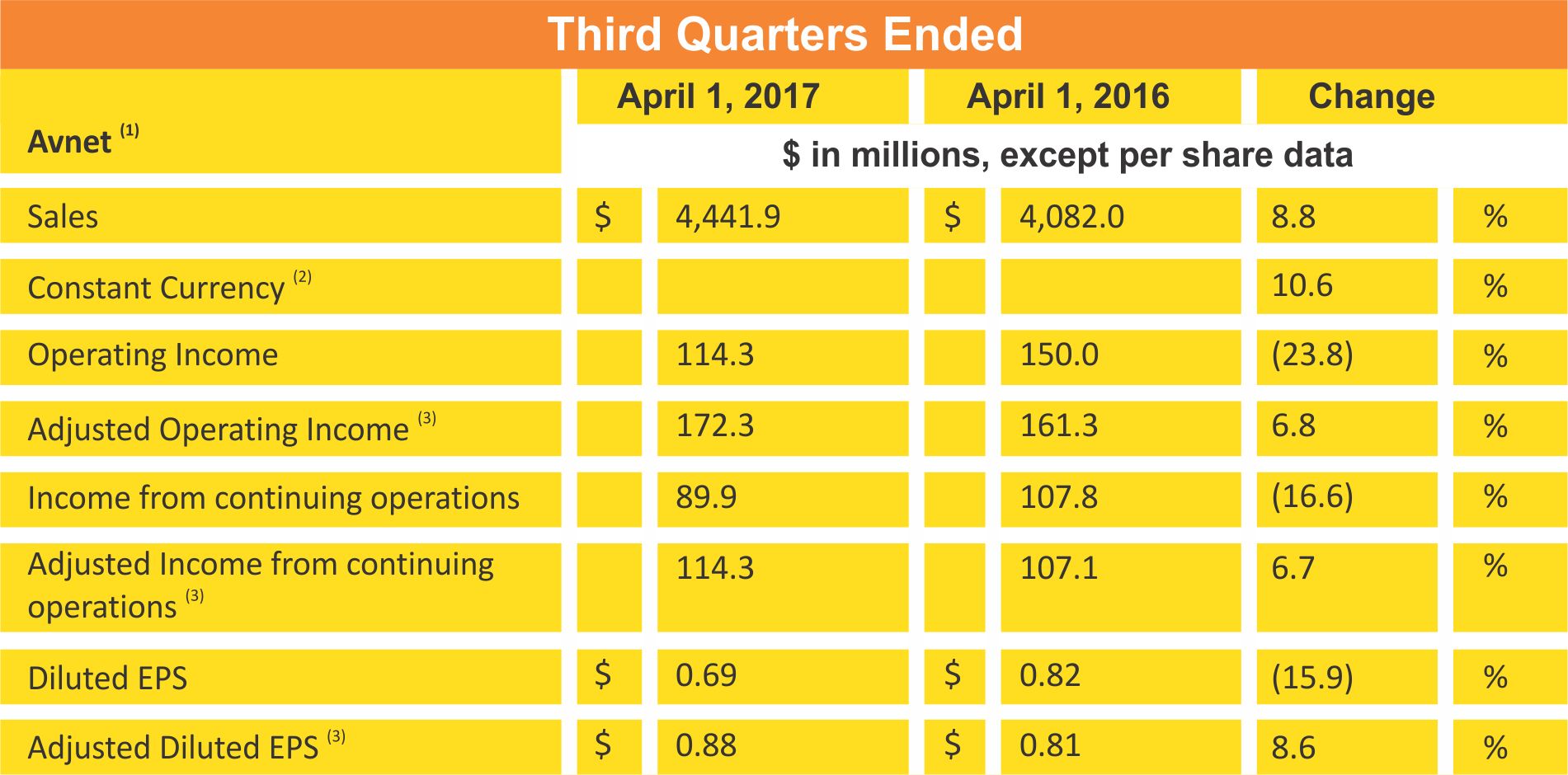 | | | |
| --- | --- | --- |
| (1) | | The information excludes the Technology Solutions (TS) business as the sale of this business was completed during the quarter. See "Discontinued Operations," below. |
| (2) | | Year-over-year sales growth rate excludes the impact of changes in foreign currency exchange rates. A discussion on the impact of foreign currency on Avnet results of operations is included in Exhibit 99.2 to the Form 8-K filed with the Securities Exchange Commission on April 27, 2017 ("Exhibit 99.2"). |
| (3) | | Non-GAAP measures. Refer to Exhibit 99.2 for a reconciliation of non-GAAP financial information. |
"Our organic revenue grew 3.4% sequentially in constant currency and adjusted operating income increased 4.8%. Our investments in e-commerce continue to yield results as digital sales exceeded a $700 million annual run rate driven by better than expected revenue at Premier Farnell where operating income margin exceeded 10%," said Bill Amelio, CEO of Avnet.
"Our EMEA team delivered another strong quarter as organic revenue grew 16% sequentially in constant currency and operating income margin increased 21 basis points. Despite near-term challenges in our upcoming quarters related to supplier losses and changes to supplier programs, we are confident our investments in digital tools and our transformation initiatives that are focused on streamlining our operations and improving our ability to serve our customers and suppliers. This will position Avnet for future profitable growth in a rapidly changing technology supply chain environment."
Avnet Regional Sales Results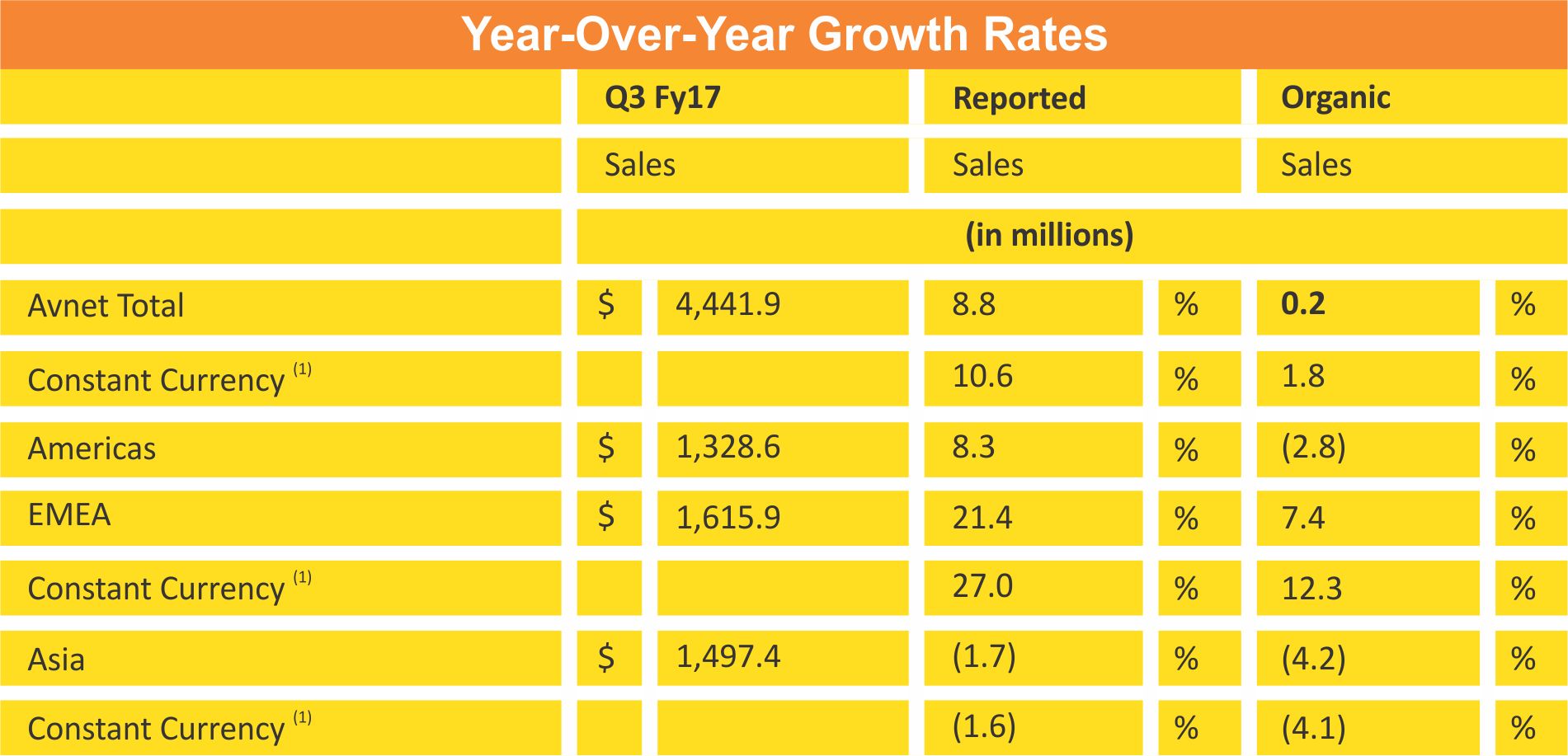 | | |
| --- | --- |
| (1) | Refer to Exhibit 99.2. |
Sales increased 10.6% from the year ago quarter in constant currency

Organic sales increased 1.8% in constant currency

EMEA organic sales increased 12.3% year over year in constant currency on an organic basis, representing the 15th consecutive quarter of organic growth
Gross profit margin increased 142 basis points from the year ago quarter primarily due to the addition of Premier Farnell, as well as improvements in the Asia region
Working capital (defined as receivables plus inventories less accounts payables) increased 9.1% sequentially, primarily due to an increase in the EMEA and Asia regions