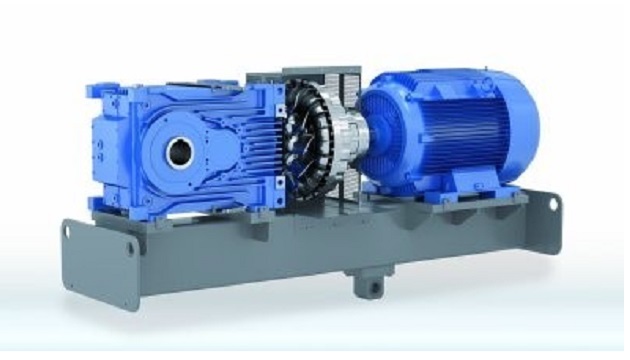 NORD drive solutions, from standard geared motors up to heavy industrial gear units, prove their value throughout the world in conveying and logistic equipment for bulk material, mineral and mining applications.
NORD supplies reliable, safe and customised drive systems for conveying bulk materials. All drive solution components are precisely matched to each other and ensure smooth operation under demanding conditions. These includes large temperature fluctuations, abrasive environments, and rough operating conditions. The reliability and cost-effectiveness of NORD solutions for these challenges have proven themselves in the construction equipment and machinery industry throughout the world. All NORD drive solutions are planned for individual customers according to the modular principle. This is based on a comprehensive range of frequency inverters, motors and gear units, as well as coupling and brake systems, each with a wide variety of options. Features such as hydraulic couplings tailored to the particular process or Taconite seals, which effectively protect shaft sealing rings against abrasive dust and corrosion, ensure smooth operation.
New MAXXDRIVE XT industrial gear units
NORD has supplemented the latest generation of MAXXDRIVE XT industrial gear units, with an application-optimised two-stage angled bevel gear unit that is especially suitable for conveyor belts in the bulk materials and mineral industries. The power and speed range has been specially adapted to the needs of the target industries. Output torques range between 15 and 75 kNm with speed ratios of 6.3 to 22.4. As standard, the new industrial gear unit is equipped with a heavily ribbed housing and an integrated axial fan. Due to the increased surface and the air guide covers, the cooling air flow is optimised and a very high thermal limiting power is achieved. In many cases, addition cooling is not required. Large roller bearings and centre distances increase the load capacity and service life of the components.
Networked maintenance concepts
NORD also offers innovative predictive maintenance concepts especially for heavy industrial gear units. Via the frequency inverter, networked NORD drive units communicate their status data via the control system or communicate directly into a secure Cloud. With optional vibration monitoring, condition changes can be detected at an early stage and predictive maintenance can be scheduled in good time. Recording of the performance data also ensures optimal dimensioning of the system as well as continuous condition monitoring of the drives.
For more information, visit: www.nord.com