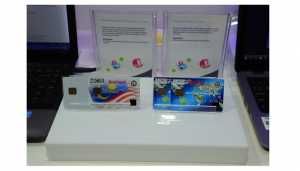 STMicroelectronics continues to be among the leaders in the stream of electronics. They are also at the forefront of venturing into Smart Card Technology. With their latest smart cards solutions, they are enabling customers with first mover advantage. Nikita Sharma, Technology Journalist of ELE Times sat down with Deepak Aggarwal, Senior Marketing & Application Manager of STMicroelectronics to discuss about the latest advancements in the Smart Card Technology:
ELE Times: What Smart Card products STMicroelectronics have come up with?
Deepak Aggarwal: STMicroelectronics offers a complete secure microcontroller product line, enabling security in mobile, banking & ID, and IoT-connected devices ST's secure microcontroller division portfolio focuses on three main vectors.
Banking & ID solutions for traditional smartcard businesses such as payment, people identification, transport, and pay TV.
Mobile security addressing SIM solutions for cellular connectivity in mobile, wearable and machine-to-machine (M2M) products, as well as secure solutions for near field communication (NFC & eSE) and Secure Driving in automotive applications.
Authentication covering brand protection, TPMs and strong authentication solutions for IoT networks.
ELE Times: Please share STMicroelecronics' market share/leadership.
Deepak Aggarwal: ST has Worldwide Ranking in:
#3 Secure Microcontrollers
#3 supplier
~15% market share
> 1 Billion Secure MCUs shipped
Strong contribution to the emerging Industrial market (M2M …)
> 250 Million units shipped for Mobile Security
ELE Times: What markets are you targeting with your new products and technologies?
Deepak Aggarwal: ST is a worldwide player, and we have sales offices worldwide. We have regional marketing, core appliance and coverage. Particularly in India, we have Sales Offices in Delhi, Mumbai, Bangalore and Pune.
ELE Times: What do you think will be the next technical development in the smart card technology?
Deepak Aggarwal: Throughout its 20+ year presence in security, ST has supplied the market's most advanced technologies and solutions, with a continuous focus on innovation and the highest levels of security certification.  The key areas are as follows:
ST31 contactless, dual interface secure microcontrollers are designed to enable secure and fast contactless transactions for banking, ID and transport applications.
ST31 secure MCUs support various multi-protocol RF interfaces enhancing multi-application versatility, ISO/IEC 14443 Type A, B and B', NFC, ISO/IEC 18092 and Very High Bit Rate protocols are all available and Auto-detect mode allows automatic detection and dynamic adaptation of the device to the correct reader protocol.
ST54, ST21 & ST33 to cover various NFC modes as Reader/writer, Card emulation and Peer to Peer to address all the possible NFC use cases. The ST21NFCD chip features active load modulation for faster, smoother transactions & saves power, delivering better user experiences in mobiles, wearables, or IoT devices.
ST31 and ST33 platforms embed respectively the ARM SecurCore SC000 and SC300 processors that deliver outstanding computing performance and low dynamic power consumption which enables fast and reliable transactions. Software engineers can benefit from the industry-recognized ARM development environment and from best-in-class code density.
ST33 offers large memory capacity upto 2 Mbyte, multiple communication interfaces & certified cryptographic libraries.
ST support a comprehensive set of packages which not only includes standard form factors like  wafers, SIM modules, DFN but also very small form factors such as WLCSP packages for eSIM applications.
ST has been continuously investing in advanced technology R&D and is proud to control both R&D and production in-house. The latest ST's Secure MCUs are based upon 40nm Flash technology, allowing to deliver advanced feature products at optimized cost to its customers.
ELE Times: Please highlight the major transforming applications in the smart card technology.
Deepak Aggarwal: The fast adoption of the smartcard technology brings not only innovation in Security, semiconductor technology but also its adoption to provide security in the embedded system. Today, governments across the world recognize smartcards as a key tool in protecting international security, personal data, reducing fraud and improving service and information with citizens. In areas such as health, driving licenses, vehicle registration certificates are major programs already ongoing. Also, work is already in progress to upgrade existing passport solutions to smartcard technology.
Banking is another area where the increasing need for highly secure payment transactions drives the banking card market towards chip-and-PIN solutions. The contactless/dual interface trend is being confirmed and should be reinforced in the coming years: contactless payments facilitate small payment transactions and maximize adoption and user experience. NFC (near-field communication) technology is another technology at the heart of an expanding spectrum of easy-to-use, intuitive, contactless & secured payment applications using our mobile phones.
ELE Times: Please discuss about the benefits of the smart card technology.
Deepak Aggarwal: Smart card technology is a secure technology, with a third party certification like common criteria and EMVCO certification. The secured MCU devices help to prevent device cloning, data integrity & data breach. It helps to ensure that devices can exchange data & communicate it in a secured manner, regardless of the field of application.
ELE Times: In India what are the challenges while it comes to smart card technology?
Deepak Aggarwal: In India, we are adopting the new technologies faster, if we talk about the phone segment like the smart watch from apple. All the technologies are getting fast adoption in the Indian market, and they are available because all the leading players in these technologies are present in India and there is a huge market in India and we really do not see any limitation in the adoption.
ELE Times: Please discuss about the challenges in the development of the smart card technology.
Deepak Aggarwal: ST has been very strong in this market as we have a long history of security knowhow and we have continued in the development of the secured algorithms and being a member we are already playing well.
ELE Times: Highlight recent Press release on STPay-Boost.
Deepak Aggarwal: ST has announced a new complete payment SoC developed in cooperation with Fidesmo for secure contactless payments on smart watches and other wearable technology. The key features include:
STPay-Boost IC combines hardware secure element with proprietary NFC-boost technology for superior contactless performance.
Fidesmo OTA personalization/tokenization platform completes the solution as a turnkey payment system-on-chip.
Compact single-chip form factor ideal for smart watches, wristbands, connected jewelry: confirmed by Swedish hybrid smart-watch maker Kronaby.
ELE Times: Throw light on key demos & their applications showcased at the booth.
Deepak Aggarwal:
Smartcity lightning:

– Device Authentication with remote server to manage authenticity of IoT Devices using STSAFE-A100.
– Applications : Authentication of Server/Devices.

Biometric Electronic Passport/ ID Card:

– Biometric enabled Smartcard and Embedded secure element to protect access to sensitive data and authentication of user for used as Identity, Driving License, Health and e-passport. Protects from unwanted Access/Reading of personal data using ST Dual-Interface chip ST31G480.
– Applications : Identification smartcard & embedded secure element in electronic passport.

Biometric Banking Card:

– Biometric enabled banking card with added security for Identity tracking. Protects from unwanted Access/Transactions using ST Banking solution STpay-Tiger and ST Dual-Interface chip ST31G480.
– Applications : Banking smartcards with extra Identity authentication.