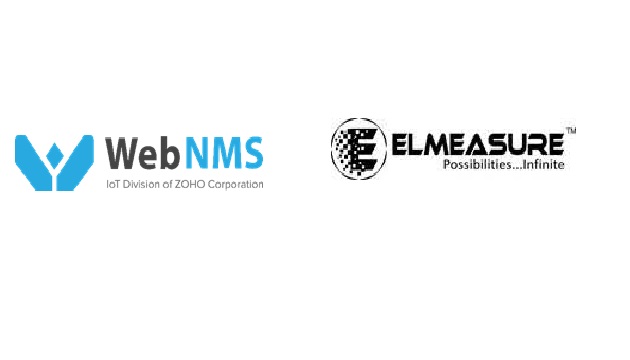 WebNMS (IoT division of Zoho Corp.), a leading provider of WebNMS IoT Platform and Enterprise IoT solutions, announced their strategic partnership with ElMeasure, a pioneer in Energy Management and largest panel meter manufacturer in the country.  The two companies have partnered to bring IoT enabled Energy Management Solution in the Industrial IoT space.
This collaboration brings together WebNMS' scalable and high-performance, Internet of Things (IoT) platform and ElMeasure's expertise in energy management and metering hardware manufacturing. It will enable ElMeasure to provide innovative and specialized, Energy Management Solutions for various industry verticals like textile, pharma, automobile, commercial, and residential buildings, etc.  WebNMS' IoT Platform helps ElMeasure leverage IoT technology to gather, process, visualize, and draw insights from energy data at scale, across its broad array of energy product portfolio to provide unified Energy Management Solutions. This partnership takes forward ElMeasure as one of the early adopters of IoT technology in the energy space in India. 
WebNMS' highly secured and scalable platform integration with ElMeasure's high precision energy meters will enable the enterprises to considerably reduce their energy bills and OpEx. Data visibility is of importance to the enterprises, to pinpoint the energy usage. An intelligent solution that can provide energy reports doff wise, shift wise, count wise, production wise, etc., show the speed Vs Kw curve, bars, graphs, etc. Transparent insights on likewise energy data will enable the enterprises to schedule preventive maintenance, reduce the downtime, effective utilization of resources.
"Energy being a vital resource to any business impacts the financials and productivity of the business. Energy efficiency is a key driver of business competitiveness. We are delighted to partner with ElMeasure as they move to providing IoT enabled Energy Management Solutions in the connected era. At WebNMS, we pride ourselves on delivering robust, scalable, high-performance, industry ready IoT Platform which enables our customers and partners like ElMeasure to quickly provide customized vertical IoT solutions in their area of expertise. WebNMS remains strongly committed to its open platform approach that enables partners to create their innovative applications." says Karen Ravindranath, Director, WebNMS IoT.
"WebNMS, seeks to leverage our expertise in the energy management domain by this strategic partnership; enabling our customers to be truly IoT and Industry 4.0 ready. With this partnership we believe that WebNMS IoT platform can well complement our hardware enabling quicker time to market and easy deployments to customers of various domains seeking energy efficiency." says Sam Cherian, Chairman, ElMeasure.
The global energy landscape is changing and the demand is expected to grow to 28% by 2040. The extent of this increase is likely to be curbed by the improvements in energy efficiency, as increasing attention around the world is devoted to using energy more sustainably. Studies reveal that industry and buildings are the largest market for final energy consumption.  Industries waste approx. to 30% of the total energy. Enterprises are making a shift towards a more energy sustainable environment and continuously finding alternate renewable sources of energy.