Working with six to 96-series cells in a battery. TI has battery management system reference designs built around its BQ79606A-Q1 precision battery monitor and balancer.
It can be used in multiples on batteries from 24 to 400V, with on-board capacitive isolation allowing communication from chip to chip down the stack.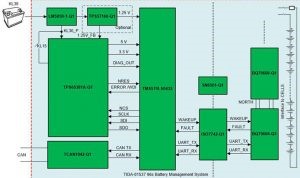 Included is power management IC diagnosis, BQ79606A-Q1 diagnosis, hot-plug capability and 500kbit/s external CAN communication.
Each BQ79606A-Q1 can monitor three to six cells, and away from this reference design they can be stacked up to 64 high, creating a range of 3 – 384 series cells to span 12V to 1.5kV lithium-ion batteries. 96 cells can be measured in <1ms.
The chip includes thermistor temperature monitoring (six channels) alongside voltage monitoring. "With so many kilowatts of power filtering through an electric vehicle's traction inverter and batteries, high temperatures could potentially damage expensive and sensitive power-train elements," said TI.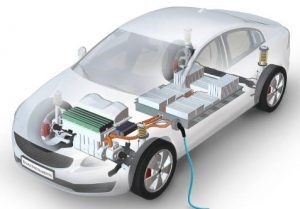 The chip-to-chip communication chain – which has been designed to assist meeting ASIL D in ISO 26262 – can be implemented with a ring architecture that can continue to operate with a cable break.
On the subject of over-heating, to protect power-train systems such as a 48V starter generator, the firm has introduced the TMP235-Q1 precision analogue output temperature sensors.
Operating on 9µA quiescent current, accuracy is ±0.5°C typical and ±2.5°C maximum accuracy across -40°C to 150°C "to help traction inverter systems react to temperature surges and apply appropriate thermal management techniques", according to TI.
Article Courtesy: Texas Instruments