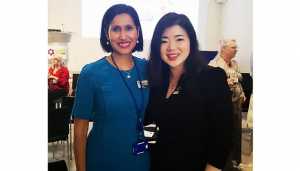 u-blox, a global supplier of leading positioning and wireless communication technologies, is happy to announce that its Senior 5G Tech Lead Sylvia Lu has been awarded as one of UK's Top 50 Women in Engineering by the Women's Engineering Society (WES), in celebration of International Women in Engineering Day 2019. The list of winners is also featured in The Guardian.
The 2019 awards attracted a large number of high-quality nominations from a broad range of industries. The 50 winners and 'highly commended' nominees came from many different sectors including professional services, pharmaceutical, aerospace, facilities management and automotive. They were judged by a panel of industry experts.
The WE50 awards take place each year to coincide with International Women in Engineering Day (INWED) on 23 June, a day endorsed by UNESCO patronage since 2016. INWED celebrates the achievements of women in engineering and related roles and highlights the opportunities available to engineers of the future. This year INWED takes place on WES' centenary, 100 years on from the day the society was founded.
"I am humbled and delighted to be recognised as the Top 50 Women in Engineering," said Sylvia Lu, Senior 5G Tech Lead at u-blox. "It is truly exciting as an Engineer, contributing to the fast-evolving wireless industry to enable emerging technologies like 5G across industries." She adds: "I am passionate about encouraging more talented young girls and women into STEM, as I believe that if we want to see more representation of women in the STEM industries, we will need to empower aspiring girls, equip them with the relevant digital skills, all the way through school, university and into senior leadership roles. Together, we will unleash girls' power in all its dimensions and ensure that their full potential is realised, generation after generation."
For more information, visit: www.u-blox.com