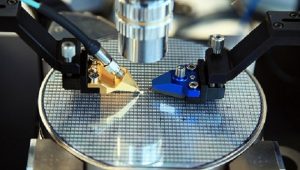 India today has established itself as a nation that consumes semiconductors. With the demand for semiconductors increasing by the hundreds every passing day, the need for its very own semiconductor fab has never been so prominent. In an exclusive interview, Lam Research's Krishnan Shrinivasan tells Soumyarendra Barik, ELE Times about the semiconductor space in India and if India will ever have that all elusive fab. Excerpts:
ELE Times: Give us a brief overview of India's semiconductor industry. What kind of work and innovation is happening in the semiconductor space?
Krishnan Shrinivasan: The Indian Electronic system design and manufacturing (ESDM) marketis at a huge inflection point, and is forecasted to reach US$ 400 billion by the year 2020, according tothe India Electronics & Semiconductor Association.  The rapid growth of electronics consumption is being driven by consumers and due to industrial growth and is enabled by critical advances in performance and capacity of underlying semiconductor content.The key trends in the semiconductor industry in India are adoption of mobile connectivity, Smart Industrial Automation, Defense and Rural Broadband.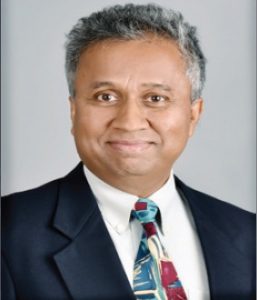 The current industry shift is allowing technology, and in particular semiconductors, to truly transform the world. Technology may be deployed to solve traffic problems or environmental issues. This world of IoT which we have been talking about for 10 years is now very real with the explosion of distributed sensors and the ability of companies around the world to store and process that data. Applications development in AI and big data analytics are creating value propositions that can be harnessed to make things better. A portfolio of devices have connected people across the world enabling ubiquitous connectivity. The cloud has created a massive scale for storage and computation. At the root of all these is a digital circuit that is implemented on a semiconductor device. The semiconductor ecosystem facilitates tens of billions of transistors onto a single piece of silicon and to put tens of terabytes of storage capability onto a single solid-state drive.
The Indian semiconductor industry is rising to these challenges by deploying its large pool of talented and experienced professionals in semiconductor design.  The world's foremost semiconductor companies do most of their design work from Indian Innovation Centres.  There has been rapid growth in the number of startup companies in the fabless space providing solutions targeted to Indian needs, but with global market opportunities. 
ELE Times: The worldwide semiconductor revenue is pegged to grow by a shade more than 7 percent. But do you think the same can be said about India?
Krishnan Shrinivasan: India participates in the semiconductor market as a consumer of electronics and the underlying semiconductors.  Semiconductor demand in India is driven primarily by consumers, government policies and industrial entities for their own networks.  On the consumer front, accelerating adoption of smartphones will continue to drive semiconductor sales in India – on this front it is important to note that 70% or more of the bill-of-materials cost in a smartphone is represented by its semiconductor content.  Smartphone proliferation will drive a corresponding demand for data needed for a rich multimedia experience.  Service providers will consequently make substantial investments in their network infrastructure to provide this data to consumers.
On the industrial side, increasing adoption of IoT devices will drive further automation, including use of data analytics, AI/ML and associated technologies to improve efficiencies.  In addition to adoption of these technologies across the Indian industrial ecosystem, a lot of the development of systems and software will take place from within the Indian ESDM environment further driving demand for semiconductors. It is fair to say that Indian demand for semiconductors will grow at a faster rate than worldwide growth rates.
Governmental push for digital penetration throughout the country including its Smart Cities initiatives as well as the build-out of national infrastructure will in turn also drive significant semiconductor demand. 
ELE Times: It's been so many years, and we're still waiting to get our first semiconductor fab in India. When do you see that happening?
Krishnan Shrinivasan: A leading edge fab today is an extraordinary investment, not just ofmoney, but also in the broader industrial ecosystem. A leading edge fab today will require an investment in the region of 10 billion dollars and an extremely significant investment in technology on a scale that does not exist in any other industry.
There are no large semiconductor manufacturing facilities in India yet, but we are hoping that this will change soon especially with the government's "Make in India" initiatives.
ELE Times: What kind of political and economic drivers will play a key role in developing India's semiconductor industry?
Krishnan Shrinivasan: The Indian government is clearing policy logjams, is setting ambitious targets and making bold decisions. The ESDM industry in India stands to benefit largely from the government's aggressive engagement in digital as a part of its 'Make in India' policy. The industry is projected to see investment proposals over $1.5 billion over next two years."
Continued rationalization of tariff and tax regimes as proposed by various industry organizations like the Indian Semiconductor and Electronics Association (IESA) are essential to the growth of a domestic electronics manufacturing industry. The government may also heed policy recommendations made by such industry bodies in other areas such as encouragement of domestic manufacturing, and reforms to labour and land policies. 
ELE Times: What has been LAM Research's contribution towards the semiconductor space?
Krishnan Shrinivasan: Lam differentiates itself in the markets, with a focus on technology leadership, productivity, speed to solutions, and collaboration. We focus on technology innovation and new products, which springs from a company culture that rewards innovation and continuous improvement.
We have been successful at acquiring and integrating new companies into the product portfolio. This comes from a culture that values mutual trust and respect that fosters teamwork and collaboration, not only within Lam but also, again, with customers in the ecosystem. We have a culture that teaches every employee to think customer, company, individual, which differentiates us because it sets us all to one mind that our success is only achieved through the success of our customers.Lam is proud to play an important role in influencing future technology by supplying chip makers with the equipment they need to enable every kind of electronic device imaginable—and even some that haven't been imagined yet.