The Geneva International Motor Show will see the presentation of the "microSNAP", the latest vehicle study by Swiss car visionary Frank M. Rinderknecht – and the HARTING Technology Group will be there once again. HARTING will use the event to present elements of the infrastructure for automated charging, demonstrating that HARTING is systematically expanding its e-mobility infrastructure.
The breakthrough for e-mobility crucially depends on the duration of the charging process and user-friendly charging infrastructure. Long charge times and unwieldy, heavy-duty connectors deter car owners from switching to an e-vehicle. Rapid charging technology with the DC charging plug (combo) is a prerequisite for ensuring that vehicles in future are supplied with sufficient power not in hours, but rather in just a few minutes. Likewise, automatic charging solutions will gain in importance since handling larger charging infrastructure systems is more difficult and the space required for charging in parking garages, on fleet parking lots or in garages barely exists.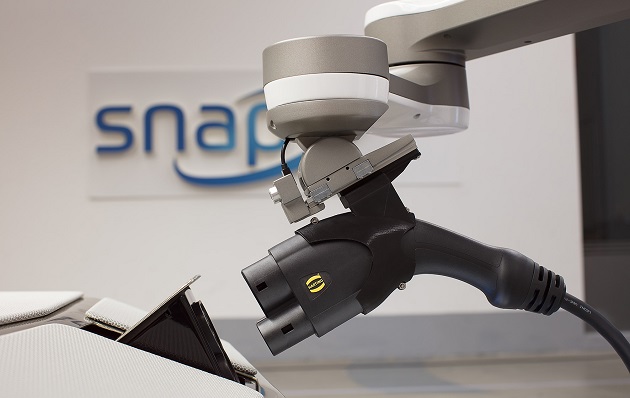 Especially for electric vehicles operated by regional transport and logistics companies, a fast DC charge will become indispensable to meet delivery times and the fleet availability demanded in the future. Because online commerce is booming and now also includes the fresh food sector, Frank M. Rinderknecht believes in small, autonomous vehicles that deliver their goods to the customer just in time. As a result, these vehicles must be recharged within a very short time. "Optimal here is, for example, a charging situation that operates while the e-transporter is loaded simultaneously with parcels and other material," says Rinderknecht.
HARTING shows which elements this type of automatic charging solution requires: robot-assisted guidance optimally brings the DC Combo 2 connector into the vehicle's charging socket. After the charging process, the robot pulls off the connector together with the cable and the vehicle is ready for use again after a short time. The provision of the high-power DC supply is optimally adapted to the charging assistant. The fleet operator benefits from the short charging time – and ultimately of course the customer as well, who receives the delivery.
Successful cooperation between HARTING and Rinspeed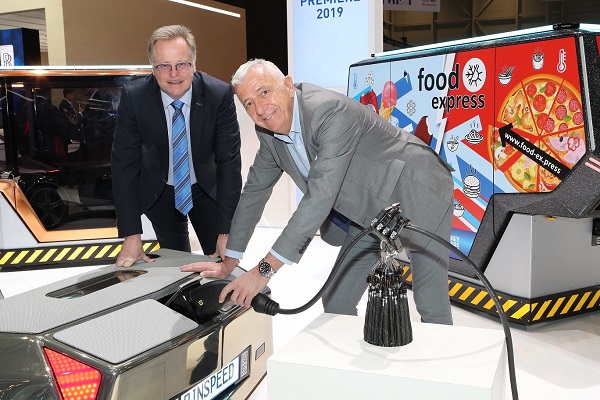 Rinspeed and HARTING have been collaborating successfully since 2016: the MICA, for which HARTING won the prestigious HERMES AWARD at the HANNOVER MESSE in April 2016, was integrated into the "Etos" vehicle for autonomous emission and condition monitoring. In 2017, HARTING used the miniMICA, another component from the evolutionary MICA ecosystem, to support the Rinspeed "Oasis" car. In 2018, HARTING provided rapid charging technology for the "SNAP".
The "microSNAP" is also a highlight at the HANNOVER MESSE (April 1-5, 2019), where visitors can marvel at the vehicle at the HARTING stand (Hall 11/C15).