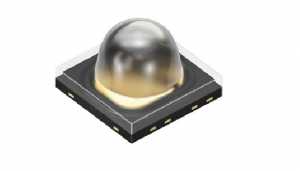 Osram continues to push LED use into non-illumination applications, as it added yet another chip to its infrared line, this time narrowing the beam angle for optimization in security cameras.The infrared chip's narrow beam eliminates the need for secondary optics, the company says, as it continues to drive LEDs beyond general illumination.
The new SFH 4718A joins the company's Oslon Black portfolio of infrared (IR) LEDs, with a beam angle of ±25°, more tapered than the ±45° and ±75° that were already part of the stable.
Osram's Opto Semiconductors (OS) group said the narrower beam eliminates the need for secondary optics in medium-capture range security uses, such as in parking garages.
"This makes the overall system more compact and cost-effective," Osram OS said. The new chip emits a wavelength of 850 nm, part of the infrared spectrum of invisible light.
Osram has been steadily building up its offerings of IR LEDs, which it calls IREDs, as it pushes LED lighting beyond its established role as an illumination source.
In April, with a mix of interior and exterior automotive applications in mind, it added six new models in the Oslon Black family. That followed the introduction in February of a 940-nm infrared chip that assists in facial recognition systems to unlock laptops, phones, and other electronic devices.