Since its commercial birth in the 1950s as a technological oddity at a science fair, gaming has blossomed into one of the most profitable entertainment industries in the world. The evolving technology like AI, VR/AR, and ML is making this industry on cloud nine with every passing day.
The real revolution in gaming came when LAN networks and later on Internet introduced multiplayer gaming. Till then, here we are playing games online with a partner half a world away from us. This industry has really settled its paws in the market and will grow immensely with the rollout of 5G.
Witzeal Technologies Pvt. Ltd is one of the major player in gaming industry and they took immense pleasure and pride to introduce themselves and all the refurbishment of gaming industry while talking to ELE Times Sub Editor Sheeba Chauhan.
Excerpt: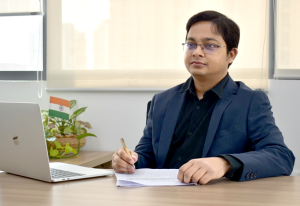 ELE Times: How is Witzeal making difference in the Indian gaming industry?
Ankur Singh, CEO, Witzeal: According to a research, the online gaming business in India is expected to reach US$2 billion by 2023 (in terms of rake fees received). This indicates that the Indian online gaming sector is on course to grow at a breakneck pace. Moreover, there are over 400 gaming start-ups at present in industry which indicates a cut throat competitive environment and therefore, it becomes quite crucial to out stand amongst others. The incorporation of Technological innovations has led Witzeal to stay ahead of the curve. We have inculcated tech-oriented features so as to provide a unique and a personalized gaming experience. For an instance, we have a live video calling feature and a provision for players to create their own private table to play as per their convenience.
ELE Times: What are the evolving trends in the gaming industry?
Ankur Singh, CEO, Witzeal:  In the current environment, India has emerged as a hub for outsourcing activities such as game development, game support services, and so on. Because of the low cost and availability of game developers with world-class quality and game development experience, the country is likely to become a global hub for development, porting, and dubbing of numerous games in the coming years.
Growing integration of Artificial Intelligence, Machine Learning, Augmented Reality (AR) and Virtual Reality (VR) technology, adoption of Platform as a Service (PaaS) for easier game creation, notion of soft monetization, and freemium games are a few prominent rising trends in the country's gaming sector.
ELE Times: What could be the possible Technological innovations on the platform of Big Cash?
Ankur Singh, CEO, Witzeal:  In the real money gaming (RMG) industry, we specialize in designing and generating futuristic games and features. In order to remain at the forefront in the industry, we aim to inculcate tech-oriented features so as to provide a unique and personalized gaming experience to the players. To give an instance, 3D scanning, facial recognition, voice and gesture control are a few features that can prominently enhance the engagement of players especially for our existing features of scheduling a private table. Such technology enables systems to build your affinity in the gaming environment (so you can make a personalized avatar that looks almost exactly like you) or to transfer your own expressions to other digital creations in imaginative ways.
Cloud gaming in India holds a promising future. Playing a game using cloud-based technology allows a player to play the games of their choice, resulting in a wide range of gaming options, security, and compatibility without having to invest heavily in computers and game consoles.
In everything we do, we keep our gamers at core. With this aim, we have ensured that redemption on our platform is instant and also safe. This year, we plan to launch two new unique features which would bring innovation in games of our platform and keep us ahead of the curve in providing best gaming experience to our users. 
ELE Times: What are the factors responsible for a deeper inclination of gamers towards RMG?
Ankur Singh, CEO, Witzeal:  The Indian real money gaming market is poised to reach a value of $7 billion by financial year 2026 (FY26) while the market is currently valued at $2.2 billion. The in-app purchases are the fastest growing revenue streams of the market, according to 'India Gaming Report 2021 by Lumikai and Redseer'. The key factors driving the growth of real money games in India are seamless digital payments services augmented with the support of government, more affordable smart phones, penetration of internet, increased transparency and concretized cyber security more than ever. The mentioned parameters have resulted access to gaming in urban as well as rural areas of India. Therefore, the online real money game players are expected to grow from 80 million in 2020 to 150 million by 2023, as per a report.
ELE Times: What are the various technology involved in making the Big Cash –a success?
Ankur Singh, CEO, Witzeal: At Witzeal, our primary focus has been on deriving game-changing innovations, with technology serving as our backbone in delivering a remarkable gaming experience to our users. All of the games on our multi-gaming platform, Big Cash, are created in-house. The in-house built games enable us in collecting, comprehending, and strategizing user data, allowing us to give a personalised gaming experience to our players while maintaining a high level of security. Big Cash, offers the unique advantage of allowing players to engage in a live video call, which increases user engagement and affinity. Our other features like VIP user enables our user to experience a different level of engagement and personalised schemes. Furthermore, in order to provide an enchanting experience for the players, we have a feature that allows them to create and schedule their own private table so that they can play whenever they like. With such technical instillations, Big Cash has grown to over 2 crore players and 5 lakh daily winners since its outset in 2017. We remain agile to our technology as it is our backbone. We invest in new technologies, adaption and implementation to ensure a better experience and security for our users.
ELE Times: With gaming industry booming at an unstoppable pace, what could be the factor responsible for its fall?
Ankur Singh, CEO, Witzeal: You are absolutely correct in assessing that gaming industry is growing at a rapid pace. To harness this growth, there has to be a regulatory framework which brings sustainability to the business. We appreciate the government's formation of an AVGC Task Force, which will look into these aspects and give the necessary push. At this moment, we also wish to work with all the State Governments to provide insights into the gaming industry to ensure that gaming industry is harnessed for growth. We are sure that together we would fulfil the GDP ambitions and one of the most promising sectors for providing employment to youths.
ELE Times: What are the expansion plans of Witzeal across the regions in India?
Ankur Singh, CEO, Witzeal: The gaming industry is rapidly evolving, so we must continue to expand our operations to stay ahead of the curve. We've already started integrating data and intelligence to give an undeniably personalised experience, in addition to introducing new games to the platform, in order to accelerate our total development and expansion.
Significant rural regions in India are an underserved market, and we're using a concentrated approach to tap into new user bases in rural India. Similarly, in the urban area, we're pursuing collaboration opportunities in addition to our organic acquisition strategy. Over the next 18 months, we aim to invest roughly INR 100 crore in this regard and we plan to introduce new features and games, which would enable us to continue engaging with the existing as well as new users across the age groups and genders. We are focussing to ensure that we bring in new technologies which would drive user experience and traction to our platform.