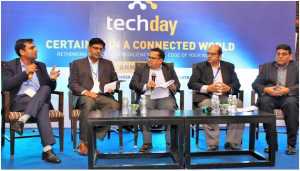 Enterprise IT World, the premium CIO magazine organized – "Enterprise IT TechDay", powered by APC by Schneider Electric. The event in its first phase was held at Hotel Hyatt, Vastrapur, Ahmedabad on September 19, 2018. The event was an initiative to engage leading business minds and stakeholders with a Knowledge Forum on Datacenter, Micro Datacenter and Edge Computing.
In lieu of the growing customer data for Indian businesses deploying third platform technologies and connected devices, this was a series of events focusing mainly on absolute knowledge forum for businesses to understand the need for Datacenter and Micro Datacenter optimization of an organization. Enterprise IT World TechDay took place in order to accommodate the future technologies and solutions including Internet of Things, Edge Computing, Artificial Intelligence and many more.
The TechDay events engaged the audiences in Panel Discussions and open forums to learn and let learn about future trends in IT, Datacenter, Micro Datacenter, IOT, Edge Computing, AI, BI, etc.
"With a surge in digitization, our world is increasingly opening up to more robust efficiency solutions across data centers. Moreover, the proliferation of data and its criticality to businesses has given rise to edge computing solutions and other related technology requirements-the CIO has come centerstage in this new scenario where technology is directly impacting the bottom line. Schneider Electric is happy to be part of a platform which is helping facilitate a dialogue on these scenarios." quoted, Venkatraman Swaminathan, Vice president, IT Division, Schneider Electric-India.
Some of the top CIOs and IT Leaders in attendance included Mr. Sandip Shah, Risk Advisory (Cyber), Deloitte; Mr. Ashok Kannan, Vice President IT, Sintex Industries; Mr. Paresh Goswami, Head IT, Chiripal Group; etc.
The events were carried out to provide as an ideal platform for all CIO, CTO, IT Head, IT manager or IT decision makers who are responsible for their internal IT consumption to come and engage with like-minded peers and discuss their challenges and gain a better technology perspective.