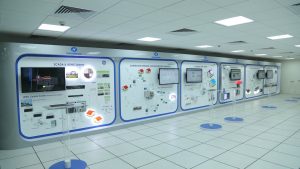 OMRON, the world leader in 'Sensing & Control + Think' technologies, has announced the empanelment of its Smart Energy Management solutions with Tata Power Delhi Distribution Limited (Tata Power-DDL). The  solutions  have  been  displayed  in  the  Smart  Grid  Lab  of Tata Power-DDL.
Inaugurated     earlier     this     year     at     New     Delhi,     the lab is a pioneering initiative to contribute towards implementing latest smart grid technologies for power distribution utilities and has hands-on demonstration of many technologies of key organisations working in the field of grid modernization.
OMRON's  showcase  at  the lab endeavors to enable utilities with varied advanced  solutions so that they are able to manage  perennial critical issues affecting  the  availability  and  distribution  of  electricity across the country.
It comprises of:
Solutions making the smart meters Tamper Evident: OMRON Tamper Detection sensor and AC Latching Relay underline the pressing need of finding a long term solution to the perpetual challenge of power theft caused by tampering in the electricity meters. OMRON's solutions empower the utilities to not only detect & track all key types of tampering, in homes & commercial buildings,   but also disconnect the power supply remotely and appropriately    if    tampering    or   non-payment   is   observed.
Technology to efficiently manage the behaviour of distribution lines: This section showcases the utility of OMRON Wireless Power Sensor for the distribution companies facing the issue of power theft at the distribution lines.  The sensor detects hooking and other means of tampering as well as harmonics and load balancing on the distribution lines.
Smart solutions for asset management at the sub-stations: Here the  visitors  get  acquainted  with  an interesting demonstration of OMRON  Photo  Electric  &  Fence  Sensors  depicting their ability to detect  and indicate unauthorised access to sensitive areas to manage and   monitor   the   safety   and   security   of  valuable  assets.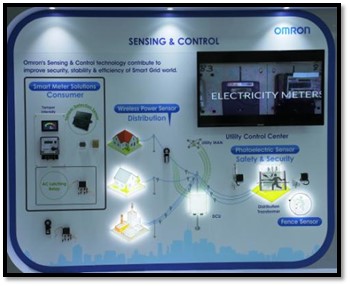 Speaking on the association with Omron, Mr. Praveer Sinha, CEO&MD, Tata Power-DDL said, "India is at the threshold of dynamic growth in the deployment of smart grid technology and integration of renewable energy projects. At this juncture, our partnership with Omron will play a critical role in developing world-class Smart Energy Management solutions including Smart Meters and related back-end infrastructure. This association will lead to seamless demonstration and speedier implementation of various convergence technologies in the field of power distribution and Smart Grids."
Sharing an overview of the solutions and the association with Tata Power-DDL, Mr Vinod Raphael, Country Business Head, OMRON Electronics & Mechanical Components business, India said, "We are enthusiastic to come together with Tata Power-DDL and align ourselves with GOI's mission.  As India inches towards achieving its dream of making affordable power available to all 24X7, the exposure at Tata Power-DDL Lab will help OMRON collaborate with the right partners and encourage them to adopt these solutions to bring in a technology-enabled change in the sector which is the need of the hour."
"As Tata Power-DDL  is also a part of the National Smart Grid Mission, our learning at the lab will encourage other State Discoms to take up smart technology projects with the leading global technology partners to usher in a new era of smart power distribution in the country. The technological tie-ups like these will surely bring in innovation and new technology implementations through a better understanding of grid modernization, demand side management and renewable energy integration technologies." Mr. Sinha further added.
As per industry reports, India is amongst the leading electricity producers in the world; however it still faces the challenge of providing electricity to all 24 X 7. Over 300 million people still do not have access to electricity indicating a deep mismatch between demand and supply and affecting sustainable availability of electricity round the clock at the right cost.
Aggregate Technical & Commercial Losses (AT&C) are one of the key causes of this parity running as high as 1.5% of the country's GDP. Power theft, forming one of the major constituents of this figure, presents an intricate challenge to the utilities who strive to find a long-term solution to curb the menace.