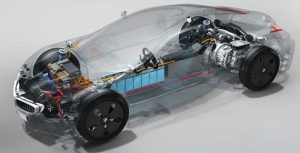 As the government increases its focus on electric vehicles, major players in the automobile industry viz Tata Motors and Mahindra and Mahindra, have continued to lead the upscaling process of their products. The companies are now working to introduce electric powertrains.
In a report, Livemint quoted people familiar with the matter as stating that Tata Motors is working on an electric model of its light commercial vehicle (LCV), Tata Ace, that can carry up to 1 tonne. At the same time, Mahindra and Mahindra is also working to develop its electric powertrain for its offerings in the sub 2-tonne segment.
One of the persons revealed, "Tata Motors is developing an electric variant of the small commercial vehicle Ace and is at the development stage now. It should be in the market by late 2019 or 2020. Given the way the Union government wants to encourage the use of the EVs in commercial purposes, this is perfectly suitable for ferrying goods and passengers within city limits."
According to the reports, the rationale behind the electric powertrains is the idea to use these for transporting goods within a city or a town. And therefore, a single charge would be enough to operate them throughout the day, unlike other electric buses and vehicles.
Further, the report said, "Tata Motors is trying to consolidate its position in the electric commercial vehicle front. It has already launched electric buses and has been testing some of them in different states. With the introduction of the electric variant of Ace, the firm will further try to cement its position. Also, in the long run, this may help them get some lost market share back from M&M in the LCV space."
Tata Motors' Ace and Mahindra and Mahindra's Jeeto are used to move freight within cities. Therefore, it is suggested that, with electric powertrains, these vehicles can be used by fleet owners as operational cost will be much lower. The acquisition cost is also expected to come down as reports have surfaced that under FAME II.
The companies are counting on this benefit to introduce their electric powertrain and expect that the electric powertrain in the LCV segment will get a lot of traction in the market. However, one of the persons quoted above stressed on the importance of pricing "since one section of the users are first-time customers and getting the vehicle financed is a problem initially".