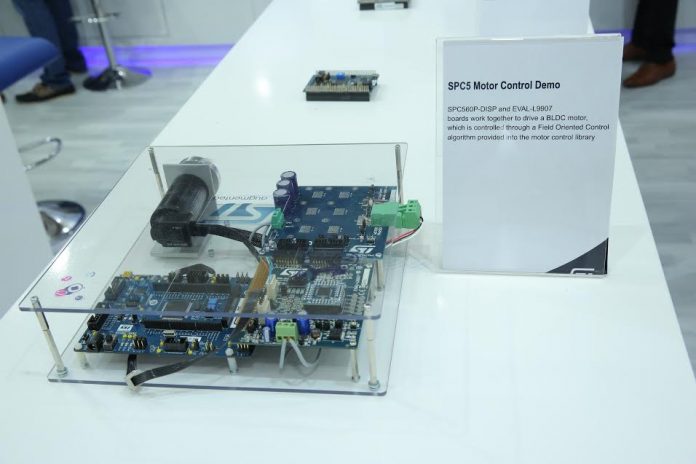 With an industry insiders' viewpoint, Bipin Pande, Technical Marketing Manager ADG – Automotive, STMicroelectronics India tells the readers of ELE Times about STMicroelectronics' innovative portfolio in smart automotive technology in India.
What are the primary requirements for the Indian automotive technology market today?
The automotive semiconductor market is expected to increase to USD 48.78 Billion by 2022, at a CAGR of 5.8% between 2016 and 2022. The increasing vehicle production and the rising trend of vehicle electrification are driving the growth of this market. (Data source: www.marketsandmarkets.com)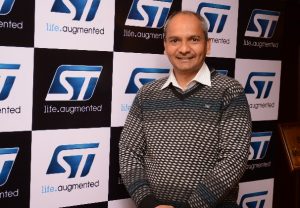 According to the Society of Indian Automotive Manufacturers (SIAM), Indian automotive sector today is a $74 billion industry and by 2026, the industry is expected to achieve a turnover of $300 billion- clocking a CAGR of ~ 15 percent. (Data source, www.forbesindia.com
The Indian automotive industry is one of the largest in the world with total annual production crossed 20 million vehicles. This comprises commercial vehicles, passenger cars and three & two-wheelers. There is big potential to introduce latest technologies to make environment green & commutation safer. Hence, safety and emission control technologies are much needed in the industry.
With IoT married to intelligent automobile technologies, the driving experience is going to be like never before. How much truth this does statement hold for Indian markets?
Self-driving cars are capturing headlines as cars have shifted from a means of transport to a digital, fully connected object conceived with the complete user experience in mind, in which innovation is driven by electrical and electronic systems, with extensive connectivity and communication functions, as well as smartphone integration and remote control – all on the back of huge data processing capabilities. The combination of the possibilities opened by these new technologies is creating what ST calls Smart Driving, with cars becoming safer, greener and more connected.
IoT has become an integral factor in car advancements. The internet connectivity in vehicles is allowing car companies to release software updates in real time, which is extremely important during a recall. The Internet of Things will become increasingly important in transportation and logistics in the next several years, especially when self-driving cars hit the road in future.
Autonomous vehicle technology has the potential to institute major change in personal mobility. Nowadays, the consumer applications are associating the IoT with the Artificial Intelligence for more and more user-friendly products and applications. This trend will be the next challenge in automotive when the AI will be associated to the Autonomous Driving features in the car.
Where do you find your company in the automotive application industry?
STMicroelectronics provides leading-edge semiconductor solutions to support car manufacturers and their electronic system suppliers in driving the evolution of cars technologies. The comprehensive product portfolio offers to customers innovative solutions to meet the most demanding requirements in terms of vehicle efficiency, environmental impact, driving experience and safety level.  All kinds of automotive applications are supported: powertrain for combustion and electrical/hybrid vehicles, safety, body, Active Safety, Telematics, and Infotainment.
Please share with us about the range of products offered by your company and their specific technical application in the automotive sector.
ST has been supplying a broad range of electronic components to the automotive industry for over 30 years, which makes it a most credible partner not only to the traditional automotive suppliers and carmakers but also to the newcomers, all of whom have long-term strategies with a relentless focus on quality and safety.
Advanced driver assistance systems (ADAS) aim to drastically reduce road accidents and their casualties by helping drivers avoid accidents altogether. ST manufactures a wide variety of processors and sensors that are used in automatic braking systems, night vision, pedestrian detection, automatic cruise control systems, and more. These systems react faster than any human and can't be distracted.
ST is also a leading supplier of radar sensors – well-established in short-range radar and starting strong in long-range radar – and motion sensors for passive safety systems as well as intelligent braking and stability control.  Car-to-car and car-to-infrastructure ("V2X") systems are now being trialed with ST technology and will be rolled out on an on a massive scale, enabling better traffic management which will also prevent accidents.   ST is also playing a leading role in reinforcing the physical and cyber security of the car's systems5, with processors embedding dedicated security and fail-safe features, as well as secure modules to protect critical systems of the car and prevent hacking.
With our power management components, ST is addressing today the key power sub-systems in hybrid-electric and electric cars: the onboard battery chargers, DC/DC converters, the main traction inverters and 48V systems. These power components are often paired with microcontrollers, such as in the latest Toyota Prius platform7. The complete solutions include battery management custom chips and microcontrollers, as well as a broad range of power components (MOSFETs, rectifiers, SiC diodes, GAPdrives, IGBTs…)
How are ST products contributing to improving CO2 emission & engine efficiency?
Advanced engine-management systems have slashed CO2 emissions and drastically boosted engine efficiency in the past decades, but there's still room for improvement, in engine management, transmission as well as in charging for HEVs and EVs.  Our latest microcontrollers (processors optimized for automotive systems management) can precisely control every aspect of combustion, from intake to exhaust to optimize efficiency even more6. They can also be used in advanced compact turbocharged or supercharged engines where precise timing and processing speed are crucial. They also consume less energy than previous systems, increasing overall system efficiency.  We have also increased the speed and efficiency of our analog components (BCD and VIPower actuators) to give automotive engineers greater control over the combustion cycle.
Can you highlight products displayed at electronica India 2017
Built on the theme of "ST is Making Everything Smarter", our booth demonstrated technologies and solutions for Smart Driving, Smart City/Homes, and Smart Things. These products are already enabling IoT ecosystem development in India and around the world.
This year, demos featured on
How ST is making driving greener, safer, more connected and more secure with a complete offer covering radar, machine vision, V2X, automotive sensors and secure elements and gateways
Latest products in Infotainment and Telematics, tuners and GPS solutions for electric, hybrid, and conventional vehicles;
Product offering for electric vehicles to make driving greener