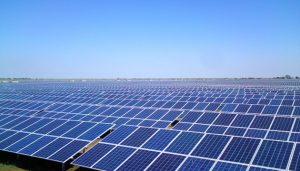 Topaz Solar plans to set up a 500-MW per annum solar module manufacturing facility in Odisha. The project, which is phase-I of the investment plan, is estimated to cost ₹240 crore.
According to the company Chairman and a promoter, Ganeshan Natarajan, in the second phase the company will add 700 MW module and 500 MW cell production capacity. Cells are used in module production at the SEZ -classified facility.
Currently majority of panels and modules used for solar power generation in India are imported from China, Taiwan and Malaysia.
The Narendra Modi government's effort to link its 100-GW solar generation capacity programme with 'Make-in-India' suffered a jolt as WTO held the mandatory domestic content requirement (DCR) clause as protectionist in 2016.
The scene started changing after the Trump administration in the US imposed a 30 per cent tariff on imported solar cells and module. Imposed in January, the duty barrier will reduce to 15 per cent in the fourth year.
The Director-General of Safeguards in India followed suit recommending 70 per cent duty on imported solar cells, panels and modules for a minimum period of 200 days. The recommendation has been currently stayed by a court based on a plea by a project contractor. However, the market is anticipating some measures to encourage domestic manufacturing.
Ganeshan expects further support through freebies offered by the Odisha government. A 25-per cent capital subsidy for ₹50-crore investment has already been granted. Natarajan is negotiating with the State government for return of SGST for five years and five per cent term-loan interest reimbursement.
Odisha has already offered requisite land for the project. Topaz is waiting for the State government to relax mandatory employment clause to firm up investment plan. The project will be financed through ₹80-crore equity and ₹160-crore debt.