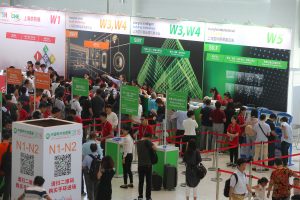 Shanghai Intelligent Building Technology (SIBT) kicks off its 11th edition from 5 – 7 September 2017 at the Shanghai New International Expo Centre in Shanghai. With the support from Intelligent Engineering Branch of China Exploration and Design Association, the fair will once again run concurrently with Shanghai Smart Home Technology (SSHT). The two fairs are expected to welcome 240 exhibitors to present Building Internet of Things (BIoT) and smart home technologies. As a leading trading platform in the intelligent building industry, SIBT is a comprehensive showcase of innovations covering control interfaces and systems, total solutions, chips, modules, sensor products, Internet of Things (IoT) technologies and NarrowBand-Internet of Things (NB-IoT) technologies.
Ms Lucia Wong, Deputy General Manager of Messe Frankfurt (Shanghai) Co Ltd, expressed: "Approaching its 11th edition, SIBT will strive to continue its success for another year. I would like to express my heartfelt thanks to the whole industry for its support over the years. Rapid urban development, economic growth, application of cloud computing and IoT are paving the way for intelligentisation in the building industry. IoT technologies will become the foundation of intelligent buildings and BIoT will gradually develop into an influential industry trend. Buildings not only provide safety and shelter to citizens but they also act as the basic component of urban planning, while also reflecting contemporary lifestyles and promoting mental well-being. SIBT will examine the convergence of building technologies and the concepts of BIoT. This development will fulfill the demand for users' comfort and convenience and ultimately lead to enriching experiences."
This year's fair focuses on the idea of BIoT which provides momentum within the intelligent building industry. The concept of intelligent building has been evolving from an individual building to a cluster of buildings, moving towards intelligent technologies and digitisation. In return, the rapid development of intelligent building technologies has also enriched the original concepts and functionality of IoT technologies. The ideas of cognitive building will eventually be realised to demonstrate improvements in energy-saving, safety, convenience and efficiency.
Event programme explores future industry trends with a spotlight on Building Internet of Things (BIoT)
SIBT will present intelligent building solutions covering building energy saving, smart community and smart hotels. Confirmed leading brands include A-OK, ABB, ANJUBAO, CARLO, DHL, Dnake, DUEMMEGI, EnOcean, Foshan, Friedrichshafen, Ihorn, KNX, Rishun, SAVEKEY, Security & Fire, SenseAir, Supcon, Systec, T-Touching, Taijeisai, WISTAR and ZF.
A series of interactive seminars and events will be organised to help visitors keep abreast of the latest industry developments. Expert speakers are invited to discuss the latest industry trends and offer market insights. Topics include:
Intelligent Building · Smart Future——Intelligent Building Industry Integrated Development Forum 2017
New Thinking on Intelligent Hotels – Increase in service value when hotels become intelligent
EnOcean Batteryless Wireless Technology for Intelligent Buildings and IoT – Embracing the Internet of Things in the New Era of Cognitive Buildings
LonMark International Empowers Intelligent Control Networking Solutions: New Technology Advancements for Building Automation and Smart Cities
Smart Inside, Beauty Outside
Wireless to Smart
The Impact of the Internet of Things (IoT) on Intelligent Buildings and Multi-Dwelling Unit Buildings
Application of Intelligent Open Video Technology Innovation Forum
SIBT and SSHT are both headed by the biennial Light + Building event which will take place from 18 – 23 March 2018 in Frankfurt, Germany. Messe Frankfurt also organises a series of light and building technology exhibitions in China including the Guangzhou International Lighting Exhibition and Guangzhou Electrical Building Technology. The company's light and building technology fairs also extend to markets in Argentina, India, Russia, the UAE and other countries and regions.
For more information on Light + Building shows worldwide, please visit www.light-building.com/brand. To learn more about SIBT, please visit  www.building.messefrankfurt.com.cn or email building@china.messefrankfurt.com.