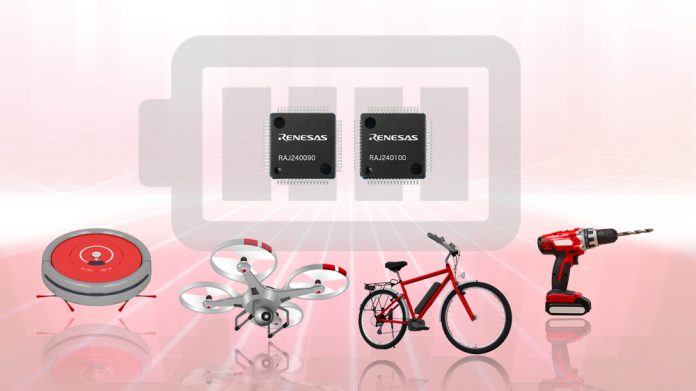 Support Up to Ten Cells with a Maximum Capacity of 50 V and Simplify Safe Battery Management with Extensive Support Tools
Renesas Electronics Corporation, a premier supplier of advanced semiconductor solutions, on December 13, 2016, announced two new battery management IC solutions for lithium-ion (Li-ion) rechargeable batteries used in industrial equipment, such as electric power tools and E-bikes (bicycles incorporating electric motors). The solutions based on the RAJ240090, supporting three to eight cells, and RAJ240100, supporting three to ten cells, simplify the design of industrial battery management systems, providing a high degree of safety.
The new solutions support up to ten cells for a maximum 50V capability and are Renesas' first battery management solutions for Li-ion batteries supporting industrial applications.
In recent years, Li-ion battery usage has increased from typical mobile applications to industrial applications such as electric power tools, E-bikes, vacuum cleaners, emergency power supplies, and uninterruptable power supplies (UPS). The RAJ240090 and RAJ240100 have built-in safety features to protect Li-ion batteries from catastrophic failure. In addition, Renesas offers design support tools, which enable the rapid development of battery management systems.