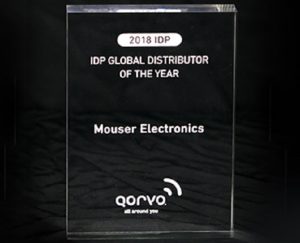 Mouser Electronics, Inc. has been named Global Distributor of the Year by Qorvo, a leading provider of innovative RF solutions that connect the world. The 2018 sales award recognizes Mouser's contributions in support of Qorvo's Infrastructure and Defense Products (IDP) business over the past year, which far exceeded expectations. The award was announced at Qorvo's 2018 IDP Sales Conference, held recently in San Antonio, Tex.
"Mouser's overall professionalism, support, and attention to detail have proved instrumental in increasing our sales around the world," said Chris Lepiane, Vice President, Qorvo Infrastructure and Defense Products Sales. "Mouser is a consistent partner, and we look forward to a prosperous future."
"We take great pride in our relationship with Qorvo," said Kristin Schuetter, Vice President of Supplier Management at Mouser Electronics. "The trust and partnership we have developed have led us to be their most effective online distributor."
To learn more about Qorvo products available at Mouser Electronics, visit mouser.com/qorvo.