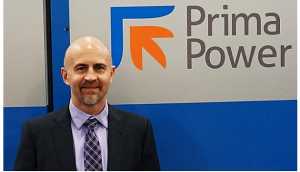 Prima Power Laserdyne, LLC, a world leading manufacturer of industrial laser systems, announced the appointment of Jon Loch to the position of Global Support and Spare Parts Senior Manager.  Mr. Loch is responsible for the Prima Power Laserdyne service and support operations as well as spare part sales.
Jon Loch comes to Prima Power Laserdyne from Bosch with a wealth of experience in managing global service and aftermarket technical sales. Through his various roles within the Bosch organization, he has substantial international experience, especially in Europe.
Giovanni Zunino, President of Prima Power Laserdyne stated, "Jon brings to the organization the experience and leadership skills needed to improve our service and support organization.  It is important to Prima Power Laserdyne that our customers receive industry leading support along with prompt and effective service."
Mr. Loch has a Bachelor of Science in Mechanical Engineering and Applied Mechanics from North Dakota State University in addition to continuing education certificates in Project Management, Leadership Development, and Professional Service Management Programs.
Mark Barry, Vice President of Sales and Marketing commented, "Prima Power Laserdyne is an industry leader in providing equipment for precision laser processing. The addition of Jon Loch, with his experience and leadership, will enable Prima Power Laserdyne to be an industry leader in service and support that our customers require."
Since 1981, Prima Power Laserdyne has been a resource for manufacturers requiring precision laser processing solutions around the world. Many companies recognize Prima Power Laserdyne's product leadership in precision laser processing as well as the ability to assist in the development of novel laser processing solutions for the most difficult applications.
For more information, visit www.primapowerlaserdyne.com