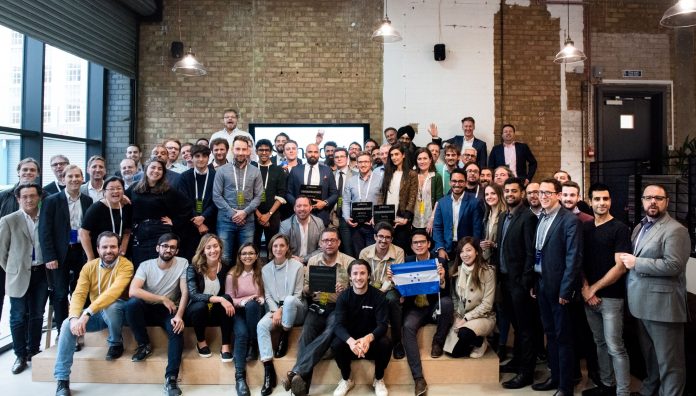 Premier Farnell, the Development Distributor, has announced the second year of sponsorship of Startupbootcamp IoT.  Now in its second year, Startupbootcamp IoT's program will give nine startups access to a global network of business mentors, hardware professionals, corporate partners including Premier Farnell, potential customers, and investors. With workshops, one-to-one sessions and events, each startup are able to call upon daily support from the Startupbootcamp team on areas including business development, finance, and marketing.
The nine startups selected to join the second cohort of its London-based accelerator program kicking off in October, are developing Internet of Things (IoT) devices that tackle problems in diverse applications from factory automation and smart farming to driver safety and cybersecurity.
Back in April Startupbootcamp IoT opened applications with a particular call out to Industrial IoT, B2B and high-impact startups in areas such as manufacturing, infrastructure, energy, education, the environment, health, agriculture, and retail. This was a response to trends highlighting a growing investment in the Industrial IoT space and waning support for smart-home products and consumer IoT devices. As a result, nearly 75% of the applications received were from startups working on B2B IoT devices, compared with just 24% in 2016.
Program CEO and Founder, Raph Crouan, said: "We've begun to see a real shift in how investors, partners, and customers are viewing the IoT. These audiences recognize the clear benefits the IoT brings but are bored of the deluge of useless connected products built in the past five years. With a few notable exceptions, last year's inaugural IoT cohort was dominated by home and consumer-level products, but this year it's been the reverse. We've witnessed a real shift in those innovations attacking the needs of heavy industries such as manufacturing, logistics, agriculture, etc., or using IoT in high-impact areas such as the environment, sustainability and societal problems in general."
"Our experience seems to mirror what's happening on a global level, where those startups bringing IoT innovation to heavy industries — through innovation in areas such as sensors, security, cloud platforms, networking infrastructure, machine learning, AI, robotics and data analytics — are receiving a greater share of the investment going on in the IoT ecosystem."
"Here at Startupbootcamp IoT, we're aiming to make the journey of building a connected hardware startup clearer, shorter, and more successful for entrepreneurs. The team can't wait to start helping this year's exciting cohort to realise their goals and bring their IoT innovations to market. Narrowing down our final startups was very difficult given the exceptionally high calibre of the applicants but the nine we've chosen have huge potential in such a diverse set of applications."
Steve Carr, Global Head of Marketing at Premier Farnell and a mentor for the Startupbootcamp cohort said: "Premier Farnell is delighted to sponsor the programme for a second year. We pride ourselves on the support we give to customers as they navigate their journeys and bring products to market.  This might be providing the technology they need when they need it or working more closely with them on their design, right through to developing high-quality packaging and getting the product out for sale.   As a mentor I thoroughly enjoyed working with the 2016 cohort – they showed an immense amount of energy and enthusiasm – and determination!  I am looking forward to working with this year's start-ups."
After receiving, and reviewing, applications from over 350 startups from 57 countries, 18 finalists were invited to attend Startupbootcamp Selection Days between September 13-15th. The final nine to join the program were chosen following an intense three-day selection process that included expert workshops, pitches to program partners including Premier Farnell, and mentor feedback sessions.
The 2017 Startupbootcamp IoT cohort is:
HUDlog(Canada) — the HUDlog Head-Up Display projects essential driving information through the windshield of a vehicle so drivers never have to take their eyes off the road.
Internet of Trees(Honduras) — a forest monitoring solution to alert authorities about fire outbreaks and logging in real time.
Mothive(UK) — creating wireless devices to continuously monitor air temperature, air humidity, soil moisture, and irradiance or crops.
Odyssey Sensors(UK) — delivering vital and actionable intel from field to farmer for the 428 million underserved and often overlooked smallholder farmers.
Robotic Solutions(Latvia) — building a self-driving kit to make existing manually controlled machinery autonomous.
Sonodot(UK) — a plug and play indoor location intelligence platform for warehousing and factory automation.
Storybot(Israel) — a handheld, a screen free connected device for children that engages them in healthy digital, social and physical activities.
Thingblox(Hungary) — a simple, secure, scalable and complete IoT communications hardware technology.
id(UK) — helping businesses improve their user experiences by inserting a special RFID tag into a standard plastic card, which is detected at long-range upon entry to a location of interest.
Premier Farnell operates as Farnell element14 in Europe, Newark element14 in North America and element14 in APAC.