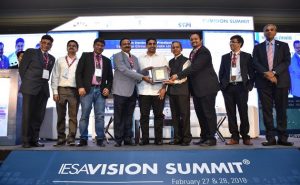 Terminus Circuits is one of the leading IP development company dealing in High Speed Serial Link Interface IPs, was awarded "Most Innovative Product of the Year 2017" by IESA in IESAVision Summit – 2018 for its PCI Express Gen4.0 PHY IP. Terminus Circuits is one among the few IP companies in India that has taped-out PHY IP of PCI Express Gen4.0 on TSMC 28HPC process. "PCI Express is globally recognized as general purpose interface that unifies the component to component interconnect across many applications that include servers, desktop computers, storage, enterprise routers, industrial & test equipment, defence & aerospace applications for its high throughput and low latency capabilities. PCI Express 4.0 also boosts the performance of the High-Performance Computing (HPC) systems" said Sankar Reddy, CEO of Terminus Circuits.
PCI Express is the corner stone of the systems that are built to meet the ever-increasing demand for computing and massive data storage requirements. Efficient and faster processors are being used for computing in data centres but the need is for better interconnect between the I/O subsystems and the processor. PCI Express is the choice of interconnect between the processor and the I/O subsystems. "PCI Express Gen4.0 is expected to meet the requirements of data centres where servers and SSD (Solid State devices) are increasing" said Gautam Kotwal, Director Marketing and Sales.
With major initiatives from Government of India on National Supercomputing Mission, to make India suffice the needs of computing and storage for the HPC (high performance computing) to enhance the national capability in solving challenging problems of national relevance and Digital India programme with vision to transform India into a digitally empowered society, Terminus circuits solutions can be vital in these programme that addresses the necessities of data throughput, networking and massive storage to improve the overall performance of super computers.