In this day and age, technology changes fast. Electronics, in particular, has seen constant changes and has really shaped up the way we interact with a lot of devices today. As the PCB is shrinking every day, so are the electronic components attached on to it. And while that leaves us with efficient and aesthetic finished devices, it also creates a lot of unprecedented challenges for the design engineers that work on any ground breaking product.
One of the biggest challenges has been PCB inspection. As SMT components have become smaller and more complex, PCB inspection has become extremely crucial down to the microscopic level. So, should we keep on using the traditional cameras that have been at our disposal or is there a need for a new technology to come in?
Turns out, the engineering community believes that while traditional eyepieceless cameras were efficient enough to deal with PCB inspection a few years ago, the challenges today require for specialised PCB inspection cameras to come in. Stereo microscopes were first introduced to check for errors within a device down to the PCB level which were later replaced with cameras without a scope where the camera's display was projected on to a screen.
However, A certain amount of skill and training was still required with the 'eyepieceless' stereo microscope, still difficult to look at the magnified image and at the soldering iron to see were you are working, the 'eyepieceless' stereo microscope obscuring the view of the work piece from the operators view.
With PCB inspection cameras, there isn't a need any more to employ highly skilled operators, and the person handling the camera can sit with a good posture without any equipment obscuring the operator's view. And engineers believe that is going to change a lot of things. One of them simply being higher efficiency of the product while minimum input from the operator.
While, people still believe that we've come a full circle in that the people in assembly lines are testing the PCBs with their naked eyes, using a PCB inspection can help in enlarging on a particular problematic part and saving the same image to share with engineers to work on. With a great ergonomic inspection, large working distance, large depth of focus, and a magnified field of view, PCB inspection microscopes offer much better results compared to standard stereo microscopes or the naked human eye.
Product Roundup
While, a lot of companies today are dealing in PCB inspection microscopes, we are highlighting the KPH 03 HDMI MICROSCOPE here, simply because we believe that it offers better value for money while checking all the boxes that an ideal PCB inspection microscope should.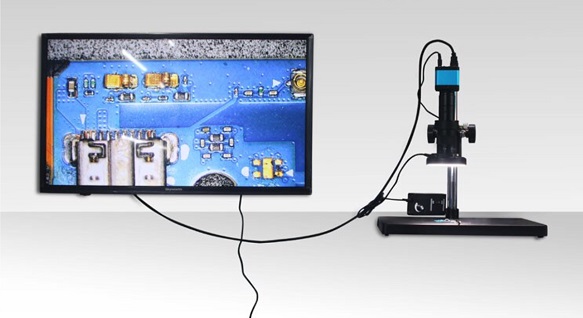 Following are some of the features of KPH 03 HDMI Microscope:
5 million pixels with Panasonic Japan COMS Sensor
This product has 14 megapixel camera and 720p video recording, and press the mode key to switch. The mode button is for mode switching, the default for the photo mode, press one time switch to video mode, press another time switch to the preview mode, cyclic switching
This product provides 8 times digital zoom, press the up or down keys can be digital zoom in or out, long press to fast zoom in or out, short press is for partial zoom in or out for one time
This product provides HDMI HD video output interface, the output size is 60Hz. 720p
This product provides free drive 1080p 30 frames / sec HD video output
This product supports a key image freeze / thaw function, after the boot press the on/off key to achieve the function of freezing and thawing
This product provides a marking function, four horizontal lines and 4 vertical lines, can support the lines optional and removal, and can display lines' colour, setting and thickness adjustable, also providing cross cursor centre display
Support for automatic and manual exposure
Supports EV value (exposure compensation) adjustment
Support English, Chinese traditional, simplified Chinese and other languages
Support 50Hz, 60Hz light source frequency selected settings
Support T-flash HCSD card (Class4), maximum to 32GB
Support shutdown save settings