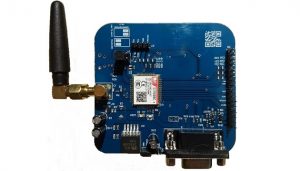 Unisem Electronics' new GSM/GPRS modem is based on the wireless, low power SIM800C module (quad-band GSM/GPRS solution) that helps the user to explore IoT and enables rapid IoT application development.
The modem can be powered by a standard 12V supply, alternatively through a single cell Lithium-ion battery with a voltage ranging from 4V to 14V. There are TTL inputs/outputs (with level translator), UARTs and USB connections on the board which allows the user to connect with the MCU, PC to transfer data/send AT commands and update firmware for the module respectively. There is also an option for the user to switch between RS232 and UART (TTL) using jumper settings. The modem is easy to scale and customize. The datasheet for the modem is available on UKC App (android and iOS) or scan the barcode on the modem to get the app.
For more information, visit unisemholdings.com.