Maxim Integrated announced that its single-chip ASIL D-rated battery monitoring IC is being integrated into the new Nissan LEAF, the next evolution of its zero-emission electric vehicle. The IC meets the highest safety standards with comprehensive diagnostics, delivers robust communications and dramatically reduces the isolation bill of material (BOM) costs.
Maxim's battery monitoring IC meets the highest safety standards, supporting ISO 26262 and ASIL D requirements (also applicable for ASIL C). Its differential universal asynchronous receiver/transmitter (UART) using capacitive isolation reduces BOM costs and failure in time (FIT) rates. The flexible UART enables robust communications in noisy environments.
Using Maxim's unique, proprietary daisy-chain architecture and successive-approximation-register (SAR) analog-to-digital converter (ADC), Maxim's battery monitoring IC captures fast, accurate voltage measurements and delivers high electromagnetic capability (EMC) performance. Maxim's battery monitoring IC also offers a comprehensive diagnostic feature that complies with bulk current injection (BCI) requirements that are designed to promote safe and smart future vehicles.
"Maxim emphasizes the development of automotive products, and our battery management system has been highly regarded by many automobile manufacturers," said Randall Wollschlager, vice president and general manager of the Automotive Business Unit at Maxim. "We regard this adoption of the Maxim's battery monitoring IC  into the new Nissan LEAF as a major step toward our continued automotive business expansion."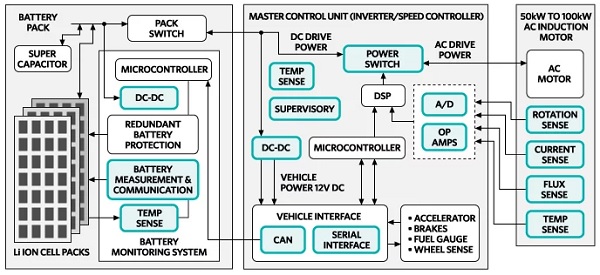 Key BMS Advantages:
Safety: Supports ISO 26262 and single-chip ASIL D standards; meets various BCI requirements; offers comprehensive diagnostics
Robust Communications: Provides reliable distributive and centralized cell-monitoring controller (CMC) architecture with UART; supports 100m daisy-chain segments and high noise immunity; supports emission, electrostatic discharge (ESD) and hot plugging requirements
Low System Cost: Internal cell balancing and UART reduces BOM costs compared to competitive solutions; only IC proven to enable capacitive or transformer isolation