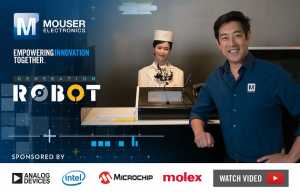 Mouser Electronics Inc., the authorized global distributor with the newest semiconductors and electronic components, along with celebrity engineer Grant Imahara, released the third video episode in the Generation Robot series, part of Mouser's award-winning Empowering Innovation Together program.
In the newest video, Imahara visits a hotel in Japan, which is staffed almost exclusively by robots. Because the hotel employs very few human staff members, Imahara investigates how the hotel's chief technology officer continually changes how the robots work based on the complexities of human–robot communication. The Generation Robot series is sponsored by Mouser's valued suppliers Analog Devices, Intel, Microchip Technology and Molex.
The high-tech social experiment at the hotel provides a rare, real-world glimpse into what Generation Robot means to modern and future communities and helps to answer a very realistic question: Are we prepared? The new video delves into various uncertainties of human-robot interaction (HRI), such as the ability of robots to adapt to unlimited HRI scenarios, problem-solving capabilities in humanistic scenarios, and the implications of successful or unsuccessful communication among a variety of human demographics.
"Innovation requires us to see what technology may be able to do in the future and then strive to make it happen today," said Glenn Smith, President, and CEO of Mouser Electronics. "There will always be hurdles and failures along the way, but true innovation results from pushing through and attaining what's possible."
"This amazing social experiment is giving the industry a unique insight into how people will eventually interact with robots on a daily basis. The technology certainly has some evolution, but I'm looking forward to the day when humans and robots can coexist as equals," added Imahara.
Click here to watch the video.