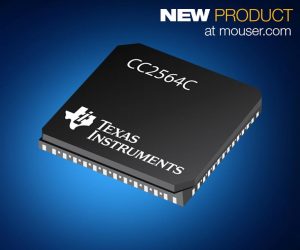 Mouser Electronics, Inc., the New Product Introduction (NPI) leader that empowers innovation, is now stocking the CC2564C Bluetooth controller from Texas Instruments (TI). Designed as a complete, single-chip Bluetooth controller with Bluetooth Basic Rate (BR), Enhanced Data Rate (EDR) and Low Energy (LE) support, TI's CC2564C provides a product-proven solution that reduces design effort and enables faster time to market. The device ships with a royalty-free, dual-mode Bluetooth software stack for use with both microcontrollers and microprocessors that include multiple profiles with enhanced quality of service (QoS) and sample applications.
The TI CC2564C Bluetooth controller, available from Mouser Electronics, is based on TI's seventh-generation Bluetooth core and includes several on-chip peripherals that enable easy communication with a host system and the Bluetooth BR, EDR, and low-energy core. The device is Bluetooth 4.2 component qualified and, when coupled with a microcontroller unit, offers best-in-class radio frequency (RF) performance with approximately twice the range of other Bluetooth low energy solutions.
The CC2564C incorporates a host of power-management hardware and software algorithms that provide significant power savings and help to extend battery life. The low-power device offers advanced power management functionality as well independent buffering and built-in coexistence and prioritisation handling for BR, EDR and low energy.
For development, the CC2564C is supported by a CC256xCQFN-EM evaluation module, which plugs into TI's MSP432 LaunchPad through the BOOST-CCEMADAPTER board. The CC2564C meets the needs of a variety of applications, including Internet of Things (IoT), wireless audio, medical devices, wearable devices, sensor hubs, and home and factory automation.
To learn more about the Texas Instruments CC2564C Bluetooth controller and evaluation module, visit Mouser Electronics.