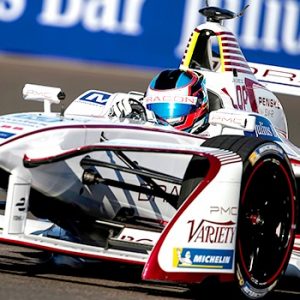 The Mouser Electronics-sponsored Dragon racing team sets its sights on Mexico City as it prepares for the fifth leg of the 2017–18 FIA Formula E racing season. After a challenging race in Santiago, Chile, the team is now fine-tuning its strategy for the tough Mexico City E-Prix on March 3. The Mexico City track, Autodromo Hermanos Rodriguez, features a 1.3-mile course and 12 turns.
The 2017–2018 season marks the fourth season of the ABB FIA Formula E Championship and the fourth season that Mouser Electronics is a team sponsor along with valued partner Molex. Mouser and Molex will sponsor the Dragon team throughout the season in collaboration with TTI, Inc.
Driver Jerome D'Ambrosio placed eighth in the Santiago contest, while Jose Maria Lopez was pushed out of the race in the first lap after hitting the wall due to contact.
"With Lopez's sixth-place finish in Marrakesh and D'Ambrosio's top 10 in Chile, the Dragon team is revving up the action this year," said Todd McAtee, Vice President, Americas Business Development for Mouser Electronics. "The two are at the top of their games, and Mexico City could be where they bust out of the pack. We are excited to see what these two talented drivers can accomplish behind the wheel."
The ABB Formula E Championship features cars that are powered solely by electric power and represent a vision for the future of the motor sports industry, serving as a framework for research and development around zero-emission motoring. Racing is all about speed and endurance, and racing sponsorships are an innovative way for Mouser to communicate its performance-driven business model and promote the newest technologies from its manufacturer partners.
"TTI is proud to team up with Mouser and Molex to support Dragon and the sustainable automotive technologies of the future," said Mike Morton, Chief Operating Officer of TTI.
"This is pioneering technology," said Fred Bell, Vice President of Global Distribution for Molex. "We welcome the opportunity to collaborate with Mouser and TTI for another season as a sponsor of the Dragon team, supporting such an important, innovative technology."
To further support D'Ambrosio and Lopez, fans are encouraged vote for their favorite driver in FANBOOST, which allows fans to play an active role in influencing the outcome of the race. FANBOOST gives fans the opportunity to vote for their favorite driver and award them an extra boost of power during the race. The three drivers with the most FANBOOST votes are awarded a significant burst of power, which they can deploy in a 5-second window during the second half of the race. FANBOOST voting opens six days before the race and is available all the way up to six minutes into the race. To learn how to register for FANBOOST and to see the full Formula E schedule, visit mouser.com.