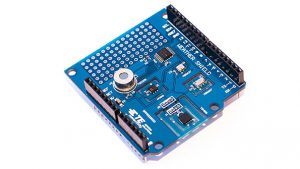 Arduino-Compatible Shield Integrates Five Environmental Sensors
Mouser Electronics, Inc., the industry's leading New Product Introduction (NPI) distributor with the widest selection of semiconductors and electronic components, is now stocking the MEAS weather shield for Arduino/Genuino from TE Connectivity (TE), a global leader in connectivity and sensors. The MEAS weather shield integrates five TE environmental sensors onto an Arduino/Genuino 101- and Uno R3-compatible board.
TE's MEAS weather shield for Arduino/Genuino, available from Mouser Electronics, provides the necessary hardware to interface the TE HTU21D digital relative humidity sensor, MS5637 digital barometric pressure sensor, TSYS01 temperature system sensor, MS8607 digital relative humidity and digital pressure sensor, and TSD305-1C55 digital thermopile sensor. In addition to Arduino/Genuino-compatible headers for I2C communication, the board offers a 64-pad prototyping area for soldering external devices.
The HTU21D sensor is a self-contained humidity and temperature sensor with selectable resolution that measures relative humidity (RH) from 0 to 100 percent and temperature from minus 40 up to 125 degrees Celsius. The MS5637 pressure and temperature sensor includes a high-linearity pressure sensor that measures pressure from 300 mbar to 1200 mbar, as well as an ultra-low power 24 bit analog-to-digital converter (ADC) with internal factory-calibrated coefficients.
The TSYS01 temperature system sensor combines a temperature-sensing chip and a 24-bit ADC, and features a low power stand-by mode for power-sensitive applications. The TSYS01 offers a measurement range of minus 40 up to 125 degrees Celsius with accuracy from 0.1 to 0.5 degrees Celsius. The MS8607 pressure, humidity and temperature sensor is ideal for weather station applications embedded into compact devices, offering an extended pressure range of 10 to 2000 mbar. The TSD305-1C55 is a contactless temperature measurement system that includes an infrared sensor (thermopile) and a sensor signal conditioner. The TSD305-1C55 measures temperature from 0 to +100 degrees Celsius with accuracy up to ±1 degree Celsius.
With its broad product line and unsurpassed customer service, Mouser caters to design engineers and buyers by delivering What's Next in advanced technologies. Mouser stocks the world's widest selection of the latest semiconductors and electronic components for the newest design projects. Mouser Electronics' website is updated many times daily and searches more than 10 million products to locate over 4 million orderable part numbers available for easy online purchase. Mouser.com also houses data sheets, supplier-specific reference designs, application notes, technical design information, and engineering tools.