18-75V Ultra-wide Input Voltage URF48xxQB-100WR3 Series
MORNSUN introduces a new 100W DC/DC converter—URF48xxQB-100WR3 series which are of 18-75V ultra-wide input voltage and can be widely used in industrial control, communication, electricity and railway; such as intermediate bus of Industrial control system, distributed power system, wireless network equipment system, medium and high power control system, and long-distance DC power supply system.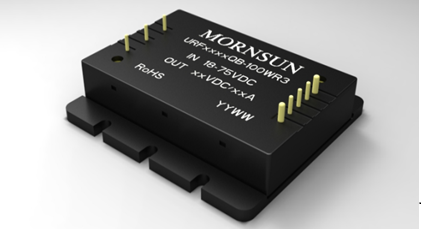 Features:
Ultra-wide input voltage range: 18-75VDC
Isolation: 2250VDC
Operating temperature: -40 to +85℃
Input under-voltage protection, output short circuit, over-current, over–voltage and over-temperature protections
1/4 Brick international standard pin-out, connecting piece and heat sink package available
Meet EN60950
Fixed Input Voltage R3 DC/DC Converters
MORNSUN fixed input voltage R3 DC/DC converters (hereinafter "R3 converters") blossom to create the Ultimate Customer Experience after three years of technology exploration and innovation, which highlight integration of reliability systems, independent innovation technology and automated production technology.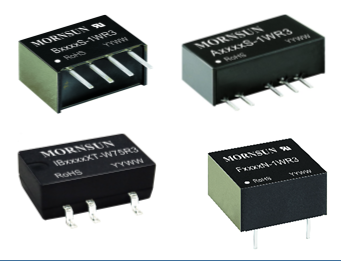 Features:
Full-load efficiency up to 85%
Light-load efficiency up to 75%
International standard pin-out, strong compatibility
Capacitive load up to 2400uF
Isolation voltage: 1500VDC/3000VDC
All series providing continuous output short circuit protection
No-load current as low as 5mA
Meet UL62368, EN62368 standards (pending)
75-200W 18-75V Ultra-wide Input Voltage, Isolated & Regulated Output URF48_QB-75/150/200WR3 Series
 MORNSUN further enriches the product line of wide input voltage R3 DC/DC converters and expands 100W to 75W, 150W and 200W URF48_QB-R3 series.
URF48_QB-R3 series provide wide input voltage rang of 18-75VDC, widely applicable to traditional industries, emerging manufacturing industries and new energy industries. Traditional industries include industrial control, communication, power grid, and railway, etc. Emerging manufacturing industries do intelligent manufacturing and intelligent robots. New energy industries do wind energy controllers and electric vehicles, etc.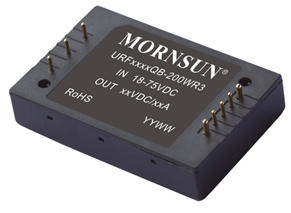 Features:
Ultra-wide input voltage range: 18-75VDC
Isolation voltage: 2250VDC
Operating temperature range: -40 to +85℃
Protections: input UVP, SCP, OCP, OVP, OTP
International standard pin-out: 1/4 brick (packages are available with connector and heat sink)
Meet EN60950 (pending)
EN50155-compliant 6W Rail URA1D_YMD-6WR3 Series
MORNSUN further develops dual outputs Rail DC/DC converters URA1D_YMD-6WR3 series based on single output URB1D_YMD-6WR3 series.
URA1D_YMD-6WR3 series provide a wide input voltage range of 40-160VDC which is applicable to 72V, 96V and 110V storage battery system, on-vehicle power supply system in the railway industry.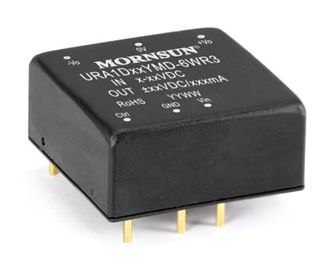 Features:
Ultra-wide input voltage range: 40-160VDC
Isolation voltage: 2250 VDC
Operating temperature: -40 to +85℃
Protections: UVP, SCP, OCP, OVP
Low ripple & noise
Reverse voltage protection available with A2S (Chassis mounting) or A4S (35mm DIN-Rail mounting)
EN50155, EN60950 (pending)
For more details please visit www.mornsun-power.com