Since the last few years, India has seen an unprecedented upward growth across the board. Our industries have grown and so has our infrastructure. The same, however, could not be said about our local electronics industry. In the electronics sector, India continues to be a laggard and a largely consumer nation. The industry's Achilles heel seems to be its poor repertoire in the manufacturing sector. Consumerism has certainly hit the industry hard, and since there have been no major initiatives to propel the manufacturing bloc, we continue to find ourselves importing a large chunk of our consumed electronics.
We must remember that an industry grows when it adapts to the changing technological scenario. To innovate something that can be proclaimed as cutting edge, it is important to have two things in particular- skilled labour and the latest technology. On a close assessment, we can understand why India's electronics industry has been hit hard by foreign competition. We as a nation lack on both the fronts essential to any industry.
But, before we start getting gloomy, it is important to know that the progress we're making towards bettering our electronics manufacturing industry although slow, seems to be at a steady pace. Last month's headlines were covered by Samsung's biggest mobile manufacturing facility being inaugurated in NCR's Noida. This is a promising step and can be the beginning of many good things to unravel in the coming years.
On the policy front, the government has increased Customs duties on the import of PCBs as a move to encourage our local manufacturers who seemed to have slipped into the bad habit of importing PCBs from China. Now, these people will be compelled to manufacture PCBs and assemble them locally- something that will hugely benefit our electronics industry.
As we start manufacturing PCBs locally, India's SMT (Surface Mount Technology) industry is expected to gain a lot of traction. It is expected by industry experts that as we start manufacturing more complex and miniaturised PCBs, it will ultimately end up benefitting the SMT industry manifold.
The SMT industry is a crucial cog in the wheel if India is to grow in its manufacturing prowess. This report analyses where the SMT industry stands today and if the environment is apt for it to grow in the future.
Market Pulse
While we can agree that manufacturing has not been India's strongest suite, things seem to be changing for the good. A lot of reports claim that the SMT industry in India is poised to witness unprecedented growth mainly due to a booming smartphone and set top box industry. A Frost and Sullivan report, for instance, says that the global surface mount technology is likely to see a growth of about 9 per cent between 2018 and 2022. India's SMT industry is one of the fastest growing among the major nations. The same F&S report claims that our surface mount industry will reach a valuation of more than USD 400 billion by 2022.
When the growth is largely optimistic, it is imperative to investigate as to what the factors are that are fuelling the market. Experts say that miniaturisation of electronic components is at the heart of tomorrow's SMT industry. India has raised to the occasion of the smartphone era, and is one of the biggest markets globally for many mobile phone manufacturers. Samsung's new plant in Noida is only a testament of the large and promising Indian market that has forced a tech kingpin like Samsung to open its biggest base here
The pulse of the market for the SMT industry seems to clear some air. India boasts of a big and diversified population where different people have different requirements. That gives tech companies a chance to operate here and cater to an audience that has the capacity to buy both cheap and expensive gadgets. That in itself is an encouraging aspect that will drive the SMT industry's growth. And when we club that with India's changing image on the world stage under the visionary leadership of PM Modi, which is backed by solid policymaking, it wouldn't be wrong to say that India is slowly becoming an attractive destination for many companies to do business here. As they open their bases here and collaborate with local companies, the technology transfer that will thus happen will strengthen the domestic industry and at the same time will generate a lot of employment too.
The Make in India Impact
There was a time when India didn't have a good repo as a favourable destination to do business. Owing to the vagaries of a democracy clubbed with poor laws always posed a red signal to many foreign companies and prevented them from coming to India. As the IT age dawned upon us, India established itself as a solid service market for the world and that forced many IT firms to open bases here. However, there was still very little going forward in terms of manufacturing. Under PM Modi, that seems to have changed. His flagship initiative Make in India was a message to the world that India has opened its doors for companies to start manufacturing here with an almost non-existent threat to their operations due to a largely stable government. More importantly, the BJP has managed to win elections in 21 states as of 2018 and that furthers the cause of ease of doing business. Following is a list of a handful of schemes offered by the government that have encouraged companies to start functioning here:
Modified Special Incentive Package Scheme (MSIPS)
Electronics Manufacturing Clusters Scheme (EMC).
Skill Development Scheme.
Huge consumption in the Middle East and in emerging markets such as North Africa and Latin America.
Existing R&D capabilities can be encouraged to develop 'Made in India' products and generate local IP.
Market Drivers
As is clear, the Indian market is ripe today at least on the policymaking front. However, on the industry front, experts say that two verticals will play kingmakers- consumer electronics and automotive. Sure, our wait for that all elusive fab is set to continue, but on the PCB level, the SMT industry can gain a lot of traction. We are seeing a lot of OEMs and ODMs cropping up here and they are eventually going to increase demands from the EMS industry. The EMS industry in turn will shift its focus to better SMT machines and that is how consumer electronics are expected to give a significant boost to the SMT industry.
On the automotive front, India's strong focus on shifting to electric mobility is something that will generate a lot of opportunities. EVs demand a lot more electronic components compared to traditional automobiles, and as we see EVs gain mainstream prominence, the demand for SMT equipment is likely to increase. Since there are several electronic components in an EV, there is a need for surface mount devices since they are lighter and occupy much less space. Apart from the automotive segment, the telecom sector also shows a lot of promise for the surface mount industry. The LED industry too is expected to give a boost to the SMT sector.
SMT Equipment in India
Assessing by the pulse of the market, the largest segment to boost the SMT industry would be pick and place machines since they have an application across all major verticals like consumer and automotive. Experts also predict that soldering and printing equipment will also receive some demand. At this juncture, it should be noted that along with the right hardware, it is important to have the right software as well. Online quality assurance remains to be a crucial aspect of SMT systems. Automatic X Ray inspection and automatic online inspection are likely to be the preferred quality assurance options across the industry.
The industry will be dictated by a few key issues that need to be addressed. First and foremost, precision of SMT machines will be the biggest issue. In today's world, there is no room for errors and the same will have to apply on the SMT equipment. Apart from that, integrated machines will be more in demand because they can provide a one stop solution for varied needs. Machines that are versatile and can cater to multiple industries will see a huge rise in numbers. Most Indian firms are moving towards the 0201 geometry, leapfrogging the phase to make huge and bulky SMT equipment. Finally, machines that can keep up with the rapid miniaturisation of electronic circuits will see a high demand.
Product Roundup
Since the SMT market is expected to witness such a massive boost, it is only imperative that a number of companies are constantly making products to meet the industry's increasing needs. One such firm is KPH Technologies. KPH series  placement machine mina feature : small volume , easy operate , run stable and price affordable they can mount 0402, 06.3, 0805, 1206, 3528, 5050, STP and QFC etc, chips precise there machines can help to  avoid the unstable performance because  of manual mounting and reduce the rent cost improve the product capacity at the same time .
Some products for the SMT industry from the house of KPH include: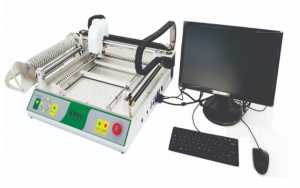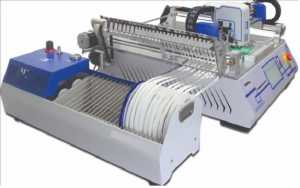 The Road Ahead
Efforts are underway to make the electronics manufacturing industry the fastest growing segment in India. By encouraging foreign investments and going easier on import-export policies, the Ministry of Information Technology of the Government of India is doing everything in their power in promoting India as the future of electronic production. Officials have realized that the policies adopted in the past with regard to import-export, customs duties etc. were major roadblocks to attracting investment. As part of the new and improved tariff policies, the customs duty has been reduced to zero percent on raw materials that are required for electronic component production as well as on all capital goods required for information technology and electronics sector. For increased development, manufacture and export, the export-import (EXIM) policy has been simplified as well. The introduction of zero duty is expected to be well received since it brings both domestic and exported products to the same platform. Customs procedures have also been eased. With more investor friendly measures in place the Government is hoping to reach a target CAGR of 15 percent, which translates to a revenue of 690 billion rupees.
As EMS continue to make their presence felt in India, expansion into the subcontinent is definitely on the horizon for many global electronics OEMs. The time is ripe for SMT equipment manufacturers to extend base to India. Getting closer to where the action is all what it is about and India is definitely a place where a lot of the action is expected.