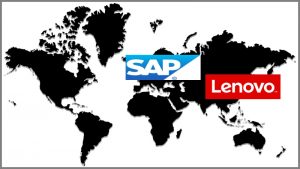 Lenovo on March 1, 2017, announced an agreement with SAP under which Lenovo will deliver a new enterprise cloud solution created exclusively for customers holding licenses for the SAP HANA platform in China. To be named "Lenovo Enterprise Cloud designed for SAP HANA," the new managed service is intended to open a simple and powerful migration path for China customers seeking to leverage their investments in SAP HANA off premise in a cloud environment.
The new deal comes shortly after the two companies crossed the one-year mark of an expanded strategic alliance announced in January 2016. It follows several other significant milestones achieved last year as part of the joint commitment to develop new cloud solutions for the China market, pioneer global innovations leveraging SAP HANA and Lenovo server technologies, and execute collaborative go-to-market programs.
Lenovo and SAP have been working closely together, particularly in China, since 2010.
The solution's cloud environment will be customized by Lenovo, with support from SAP, to optimize performance and availability running SAP HANA-based applications such as real-time data analytics. The core infrastructure will employ Lenovo's high-performance System x3850 and x3950 X6 servers, while the System x3650 X6 will power the application servers.
Lenovo will build and operate the end-to-end cloud data center infrastructure for the solution in China, while also managing and supporting its SAP HANA database and applications, including customer technical support such as a hotline service. The cloud solution will be sold by SAP and Lenovo, furthering the drive by SAP to expand its market presence and offer off-premise solutions to its customers in China. SAP also will help Lenovo with quality assurance during the deployment and support process.
With the agreement, Lenovo gains a major new channel for its industry-leading capabilities in deploying SAP HANA and delivering its benefits. The company currently is among the largest SAP customers in China and also runs one of the largest instances of SAP HANA in the Asia Pacific region. By deploying SAP HANA in-memory database technology deeply in its own organization using its own infrastructure, Lenovo has developed vast knowledge of how to optimize application performance, as well as implement the technology rapidly and efficiently, which it applies to customer engagements.