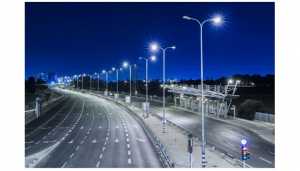 Everlight, the Taiwan based LED Lighting company announced the participation of SMART CITY SUMMIT & EXPO in Taipei for the first time with the aim to promote smart street light and smart city.
In order to build up smart traffic, security and energy scenarios, Everlight will be working with AAEON, ASKEY Computer, EverFocus Electronics and IBASE Technology, integrating the related applications to present convenient and systematic smart city on the booth.
Street lights were demonstrated on the exposition. The series are the lightest high wattage LED street lights (3kg) with more than 150lm/W of luminous efficacy. Featuring great heat dissipation effect and innovative streamline design, the easy-to-install street lights are offered with internal or external power supply unit to be chosen by customers according to their needs.
In the meantime, they also adopt the world's first smart interactive light post, wired power line transmission, wireless NB-IoT, LoRa, and Zigbee smart street light control system. Being the most excellent, energy-saving and smart LED street lights of the new generation, the smart road devices can be perfectly matched with the smart city.
In consideration of high speed driving and lighting distance requirements on highway, Everlight also promoted Victory 2 series with the bat-wing and asymmetric light patterns, built-in heat fins to effectively reduce dust-attach. The series own 200-watt brightness to remain excellent lighting quality even on the highway.
The street lights in all series can also be equipped with interactive light post, wired power line transmission, wireless smart street light system, and a platform with information transfer function. Humanity functions can also be added, such as traffic monitoring, air quality monitoring, behavior observation and identification, voice collection and forecast, Picocell and more.