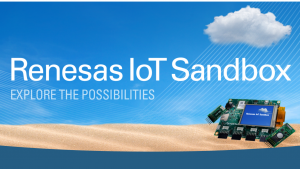 Renesas Electronics Singapore, a premier supplier of advanced semiconductor solutions in South-East Asia, India and Oceania, on March 29, 2017, announced that it will showcase its Renesas IoT Sandbox, at IoT Asia 2017 in booth D05, on March 29-30, 2017, in Singapore. The Renesas IoT Sandbox is a comprehensive cloud-based environment where customers and partners can prototype their Internet of Things (IoT) solutions and accelerate their innovative big ideas to market.
The Renesas IoT Sandbox enables personalized data intelligence for system developers working with the Renesas Synergy Platform, the Renesas RL78Family and RX Family of microcontrollers (MCUs), and the Renesas RZ Family of microprocessors (MPUs). System developers can leverage the Renesas IoT Sandbox to quickly and easily develop end-to-end prototypes for home appliances, wearables, building automation, and other IoT products using near-real-time data to make personalized, intelligent actions.
"With Singapore setting its sights on becoming a Smart Nation, the Internet of Things is set to play a bigger role in enhancing the ability of smart applications and devices to work together. Defining an IoT solution involves complex decisions and requires many functions of the enterprise to align—from technology, production, sales, and business", said Ronnie Ho, Director of Marketing, General Purpose Division, Renesas Electronics Singapore. "The Renesas IoT Sandbox provides an easy-to-use toolbox to turn product ideas into prototype in a single, secure environment, enabling customers to easily integrate up to the cloud and down to the embedded devices, to bring greater data intelligence to their connected applications."
Under the umbrella theme of "Renesas – Enabler of Big Ideas for Every Space", Renesas and Renesas partner solutions will be demonstrated at IoT Asia 2017. In addition to the Renesas IoT Sandbox, the demonstrations that will be showcased include innovative IoT solutions using the latest LoRaWAN network technologies. Recently, Renesas has joined the LoRa Alliance to accelerate its MCU solution deployments using LoRaWAN technology for a wide array of IoT systems1.
Highlights at the Renesas booth using the latest IoT and LoRaWAN technologies include:
PLC Smart Sockets (RFCOM Technologies Pte Ltd partner demonstration), a smart home energy monitoring system based on Renesas' flexible PLC modem solution and RL78/I1C Group that can measure the power consumption of electrical devices while allowing users to monitor their usage from the cloud or smartphones.
Waste Management Solution (Nextan Pte Ltd partner demonstration), a wireless ultrasonic sensor and cloud-based software data-intelligence system to monitor waste container fullness, collection routes, pickup histories and cost analysis. The solution is based on Renesas Synergy Platform.
Smart Parking System (Nextan Pte Ltd partner demonstration), based on the Renesas Synergy Platform, the wireless parking sensors supported by intelligent cloud-based software that can broadcast the availability of parking spaces in real time. The sensors make use of the latest in IoT and LoRaWAN network technologies.
Availability
Evaluation licenses for the Renesas IoT Sandbox are available now at www.renesas.com/iotsandbox. Users interested in moving their prototypes to production can migrate seamlessly to Medium One's production cloud through their production licenses. (Availability is subject to change without notice.
1 LoRa Alliance is an open non-profit association that supports the standardization and drives the widespread adoption of LoRaWAN.
For more details, visit, www.renesas.com.