With the introduction of the Matter standard to improve the interoperability and security of the Internet of Things (IoT), and applications will usher in a new situation, showing endless development potential.
In addition, wireless standards such as Wi-Fi, Bluetooth, and Wi-SUN will also drive the vigorous development of IoT applications. This article will show you the development status of related wireless technologies, as well as related solutions launched by Silicon Labs for IoT applications.
Solving the interoperability and security issues of smart home devices
So far, smart home devices are not always able to communicate with each other, and smart homes are not always easy to set up and manage, which makes it difficult to promote the construction of smart home products because the market is very scattered. In November 2022, the Connectivity Standards Alliance (CSA) released the Matter 1.0 Standard, which was created to make the secure networking of smart home devices exceptionally easy and manageable. Developers of smart home devices used to have to know all the details of all different smart home ecosystems. Now, they can rely on Matter to handle communication with other devices.
With broad interoperability, seamless connectivity, easy management and security, Matter technology will be a catalyst for more growth in smartphones, laptops, and increasingly smart home devices. Matter will move families beyond the use of personal smart devices or automated islands, and will begin implementing house-wide smart homes in 2023.
In the future, the development of Matter will not be limited to the smart home market, more devices will also be used in more diverse fields, not only in the home, but also in medical, industrial, and commercial facilities. Remote patient monitoring, such as Internet of Medical Things, is changing healthcare applications. Driven by telehealth and artificial intelligence, medical professionals and their patients will find the devices for detecting medical incidents and monitoring drug compliance very useful. These devices have the ability to capture and transmit accurate patient data securely, which is bringing better medical results and the additional benefit of reducing the number of in-personal visits. The widely used Internet of Things medical devices include CPAP (breathing aides), mPER (emergency-alert devices), blood glucose monitors, and heart rate monitors. In addition, other Internet of Things development trends, including artificial intelligence and machine learning technology, Wi-Fi 6, Bluetooth Low Energy, and Wi-SUN technology will also be combined with Internet of Things applications to make Internet of Things devices more intelligent.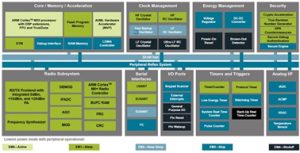 Providing industry-leading Matter development solutions
Optimistic about the rapid development of Internet of Things applications, Silicon Labs will continue to play a key role by providing industry-leading products and Matter development solutions. Silicon Labs launched its solutions for Matter over Thread, Matter over Wi-Fi, and Bluetooth LE (Low Energy) commissioning, which have passed the CSA testing and certification process and obtained Matter certification. Related solutions from Silicon Labs will be described below.
For Internet of Medical Things applications, the EFM32 architecture of Silicon Labs will greatly reduce the power consumption of related products. Silicon Labs' energy-friendly 32-bit EFM32 microcontroller (MCU) is very suitable for ultra-low power applications. Based on the ARM® Cortex® -M0+, Cortex-M3, Cortex-M4, and M33 cores, it can extend the battery life for "hard to reach" power-sensitive consumers and industrial applications. Silicon Labs' MCU is specially designed for low power consumption and intelligent design, which can reduce power consumption while still performing embedded tasks in real time.
Silicon Labs introduced its BG24 and MG24 series system-on-a-chip (SoC) for artificial intelligence and machine learning applications. BG24 devices support Bluetooth Low Energy (LE), while MG24 SoC supports Matter.
BG24 devices (EFR32BG24 wireless SoC) are an ideal choice to realize the wireless connection of Internet of Things by using Bluetooth Low Energy and Bluetooth mesh networks, which are suitable for smart home, lighting, and portable medical products. With key functions such as high-performance 2.4 GHz RF, low current consumption, an AI/ML hardware accelerator, and Secure Vault, IoT device manufacturers can create smart, robust, and energy-efficient products to avoid remote and local cyber-attacks.
The built-in ARM Cortex®-M33 of BG24 devices runs up to 78 MHz, with 1.5 MB of flash memory and 256kB of RAM, which can provide resources for demanding applications and leave room for future growth. Target applications include gateways/hubs, sensors, switches, door locks, smart plugs, LED lighting, luminaires, blood glucose meters, and pulse oximeters.
The MG24 SoC (EFR32MG24 wireless SoC) is an ideal choice for the wireless connection of mesh Internet of Things using Matter, OpenThread, and Zigbee protocols, suitable for smart home, lighting, and building automation products. The MG24 SoC also has key functions such as high-performance 2.4 GHz RF, low current consumption, an AI/ML hardware accelerator, and Secure Vault™, which can meet the various needs of Internet of Things device manufacturers.
The MG24 SoC has the same built-in ARM Cortex®-M33, which runs up to 78 MHz, with 1.5 MB of flash memory and 256kB of RAM. It has rich application resources and room for growth. Target applications include gateways and hubs, sensors, switches, door locks, LED lighting, luminaires, location services, predictive maintenance, glass break detection, wake-word detection, and so on.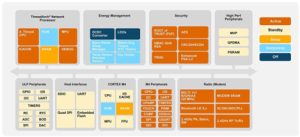 Ultra-low power Wi-Fi and Bluetooth SoC solutions
Silicon Labs also introduced the first Wi-Fi 6 SoC, namely the ultra-low power SiWx917. The SiWx917 SoC is an ideal choice for ultra-low power Internet of Things wireless devices that use Wi-Fi, Bluetooth, Matter, and IP networks to realize secure cloud connections. The SiWx917 SoC includes an ultra-low-power Wi-Fi 6 and Bluetooth Low Energy (LE) 5.1 wireless CPU subsystem, and an integrated MCU application subsystem, security, peripheral, and power management subsystem, all of which are integrated in a 7×7 mm QFN package. The wireless subsystem consists of a multi-threaded processor (ThreadArch), baseband digital signal processing, analog front end, 2.4GHz RF transceiver, and integrated power amplifier. The application subsystem consists of an ARM Cortex-M4 processor with FPU, embedded SRAM, flash memory, AI/ML accelerator, and enhanced PSA-L2 certifiable security engine. The integrated MCU is specially used for peripheral and application-related processing, while ThreadArch runs wireless and network protocol stacks on independent threads, providing a fully integrated SoC solution, which can be directly used in various embedded wireless Internet of Things applications. Target applications include smart home, health and fitness, medical, industrial, smart buildings and cities, and asset tracking applications.
On the other hand, Silicon Labs has also launched a new Bluetooth positioning service solution, which combines hardware and software, and uses a BG22 SiP module and SoC to provide industry-leading energy efficiency. The EFR32BG22 (BG22) Bluetooth Low Energy (LE) wireless SoC solution is a part of the wireless Gecko Series 2 platform. The BG22 family has the best-in-class ultra-low transmission and reception power (4.1 mA TX @ 0 dBm, 3.6 mA RX) and high-performance low-power Arm Cortex-M33 core (27 µA/MHz active, 1.2 µA sleep). Such combination provides industry-leading energy efficiency, which can extend the life of button batteries up to ten years. Target applications include Bluetooth mesh network low-power nodes, smart door locks, personal health care, and fitness devices. Asset tracking tags, beacons, and indoor navigation will also benefit from the versatile Bluetooth angle of arrival (AOA) and angle of departure (AOD) capabilities of SoC, as well as sub-one-meter location accuracy.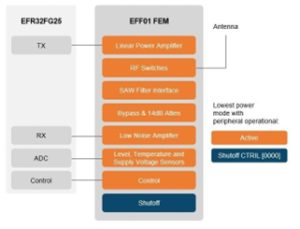 Mesh network solutions for long-range sub-gigahertz frequency bands
The Wi-SUN protocol is a kind of large-scale, standard-based mesh network solution in long-range sub-gigahertz frequency bands, which is not realized by the existing mesh network Internet of Things standards (such as Zigbee, Thread, Z-Wave, and Bluetooth mesh). Utilities can use the Wi-SUN protocol to understand how to simplify and improve management efficiency, and determine when and where to maintain and predict customer usage according to the data they receive from devices. The use cases of Wi-SUN will include streetlights, asset tracking, environmental monitoring, and structural monitoring, which means that the number of potential device connections in big cities may reach millions, so reducing power consumption will be a key requirement for future deployment.
Silicon Labs is an early adopter of Wi-SUN technology, and released the FG25 SoC and EFF01 RF front-end modules in 2022. The EFR32FG25 wireless SoC is an ideal solution for long range wireless connection Sub-GHz for smart meters, lighting, city and building automation. It includes multi-rate OFDM, FSK, and OPSK modulation schemes, and can achieve data rates as high as 3.6 Mbps while maintaining immunity to 2.4 GHz interference. The larger memory footprint and the increased IO count can realize design consolidation, and when combined with Secure Vault™, it can provide a higher level of system security.
The EFF01 Front-end Module (FEM) is a kind of highly integrated FEM Sub-GHz, aiming at expanding the range of the network Sub-GHz as much as possible. It is the first FEM Sub-GHz with an integrated power amplifier and low noise amplifier, which can achieve a maximum power output of +30dBm. When used with the EFR32FG25 device, the EFF01 can also provide closed-loop power control to minimize the variables generated by transmission power and BOM optimization in a small form factor 4×4 QFN package.
Conclusion
With the introduction of new technologies for the Internet of Things such as Matter, combining them with various wireless technologies such as Wi-Fi, Bluetooth, and Wi-SUN will enhance existing products and continue to bring more innovations to the rapidly developing field of the Internet of Things. Silicon Labs' Internet of Things-related solutions will allow customers to accelerate product development and catch up with the impending boom in the Internet of Things and unlimited market prospects.