Indians' love for gold is well known, but they have a new-found fascination for electronics. That, however, is coming at a cost. Indians, be it even a small kid is mesmerized by holding a newly purchased smartphone for playing games in it.
The relentless rise in purchases of smartphones, TVs and other goods have made electronics India's second-biggest import item after oil, and is pushing the nation's trade deficit wider.
That's bad news for the rupee, which is already roiled by worries of costlier imported oil. Economists polled that the current-account deficit to widen to 2.3 percent of gross domestic product in the fiscal year to March 2019, from 1.9 percent currently.
"The rise in imports of electronic items is already impacting the current-account deficit," said Saugata Bhattacharya, chief economist at Mumbai-based Axis Bank Ltd. "One way to solve this is to see India integrate more into the global supply chain in the coming years."
Prime Minister Narendra Modi has banked on his 'Make in India' program — aimed at fostering local manufacturing– to help cut down the country's reliance on imports. But global companies have yet to buy into it in a big way and China was the biggest source of mobile phones, personal computers and other consumer electronics in the financial year ended March, accounting for nearly 60 percent of total.
Government data for the 13 months to May show electronics imports were valued at $57.8 billion, way more than the $35.8 billion worth of gold purchases.
"India's current account challenge is now not only oil but also electronics," Uday Kotak, managing director of Kotak Mahindra Bank Ltd. said via a Twitter post. "Gold drops to no. 3. Net gold deficit is down but electronics imports have nearly doubled in 5 years."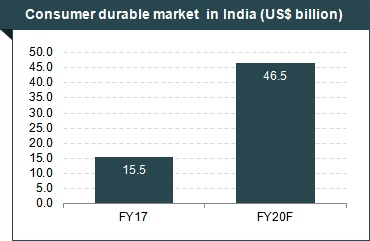 Notes: F – Forecast
Source: Makeinindia, DeitY, Edelweiss research, FICCI-EY Re-imagining India's M&E sector
The consumer durables market in India is estimated to have reached Rs 1 trillion (US$ 15.5 billion) in 2017.
The consumer durables/light electricals industry is expected to reach Rs 3 trillion (US$ 46.54 billion) by 2020.
India is one of the largest growing electronics market in the world.
Indian electronics market is expected to grow at 41 per cent CAGR between 2017-20 to reach US$ 400 billion.
Consumer electronics exports from India reached US$ 385.15 million in FY18 (up to February 2018).