Up until September 2018, total solar installations in India accounted for 6.6 GW year to date. Of the total installations, large scale solar projects made up 5.3 GW while rooftop installations accounted for the remaining 1.2 GW.
According to the latest report published by Mercom India, total solar installations in the third quarter of 2018 fell by about 4 percent compared to the second quarter- from 1,659 MW in Q2 2018 to 1,589 MW in Q3 2018. There was a rather drastic decline in solar installations year-over-year (YoY) as well, with 2,273 MW installed in Q3 2017- a decline of about 30 percent YoY.
­Large scale installations in Q3 2018, which accounted for 1,154 MW, saw a massive dip of 43 percent YoY when compared to installation in Q3 2017 which stood at 2,013 MW.
Rooftop installations in Q3 2018 on the other hand, witnessed an impressive growth of about 65 percent from 265 MW installed in Q3 2017 to 435 MW in Q3 2018. There was also a growth of 4 percent in total rooftop installations in the third quarter as opposed to the second quarter of 2018.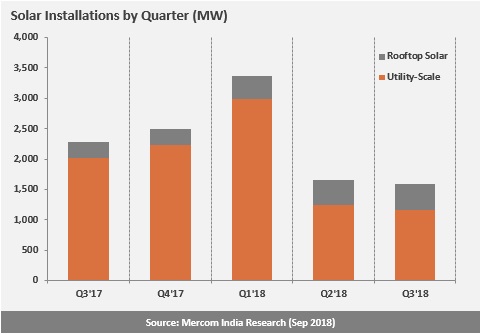 The same report also forecast the total solar installation in calendar year 2018 to be around 8 GW.
The average selling prices of Chinese made solar modules saw a dip of 21 percent quarter-over-quarter in Q3 2018 while that of Indian made modules fell by about 6 percent in the same period.
The report shows us a trend that rooftop installations in India are seeing an upward growth curve which is likely due to the fact that rooftop installations make more economic sense for commercial and industrial purposes. Large scale power plant installations are seeing a diminished growth curve since most states have started to clamp down on policy support for open access projects because they pose a threat to DISCOM revenues.