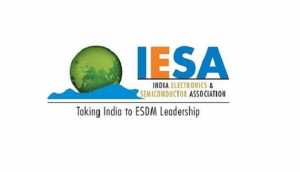 India Electronics and Semiconductor Association (IESA), the premier industry body for the Electronics System Design and Manufacturing (ESDM) industry in the country, successfully concluded its flagship event – the Vision Summit 2019. The 14th edition of the Vision Summit, themed "Intelligent Electronics and Automation – Unleashing the USD 400 billion opportunity" featured a powerful line-up of speakers including Sonam Wangchuk (Founder, HIAL and Co-founder, SECMOL), Joe Jensen (VP and GM Retail Solutions Division, Intel Corporation) and other industry experts offering their views on the future of semiconductor and electronics industry by exploring trends, challenges, and opportunities shaping the Indian industry.
The opening session was presided over by Sh. Jayesh Ranjan, IAS, Principal Secretary, Government of Telangana. The Telangana Government is actively working towards developing a vibrant ESDM industry in the state. He applauded the work done by the IESA and offered to partner on key initiatives to further develop the ecosystem.
Technovation Awards
The Technovation Awards is a dedicated effort of IESA to celebrate the success of the veterans of the electronics industry players, budding entrepreneurs and students from leading educational institutes in India. Further, the initiative is focused on encouraging them to continue with their efforts in innovating endlessly.
Speaking on the occasion, Veerappan V, Executive council & Co-Founder & Director, Tessolve Semiconductor said, "IESA Technovation awards focuses on highlighting innovative products developed in India for the ESDM Industry. I am delighted to inform that, we have received lot of nominations this year. The IESA will support the winners in their innovations, and I wish them all the best in their future endeavours."
Congratulating the winners, Rajesh Ram Mishra, President, IESA said, "For a nation to progress it is essential to encourage innovation at every step. The Technovation awards is one such initiative to recognize ongoing efforts and serve as inspiration to others. I applaud the winners' contributions. With the right support infrastructure and encouragement, India will soon be equipped to become a world leader in intelligent electronics."
Anil Kumar Muniswamy, Chairman, IESA and Managing Director, SLN Technologies said, "The IESA is committed to the development of a vibrant Indian ESDM ecosystem. We are continuously working towards fostering active industry-academia collaboration to nurture and develop the ecosystem further. It is heartening to acknowledge all the intelligent work taking place in the ESDM industry. I congratulate all the winners."
For more information, visit: www.iesaonline.org