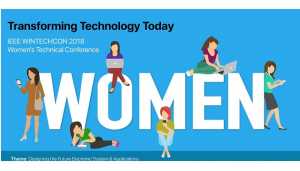 Bangalore, the silicon valley of India, witnessed the first women technology conference IEEE-WINTECHCON 2018, organised by a group of leading, city-based, technology companies. The theme of the conference, Designing the Future Electronic Systems & Applications, covered a diverse range of topics across IoT, automotive, smart energy and more.
The Institute of Electrical and Electronics Engineers, Circuits and Systems Society (IEEE CAS) Bangalore Chapter; In cooperation with IEEE Bangalore Section and IEEE WiE Council (IEEE Women in Engineering), joined hands with Texas Instruments, Qualcomm, Analog Devices, Cadence, Intel and Samsung to host the conference.
WINTECHCON 2018 aims to give women a platform to discuss technical ideas and innovations in emerging fields. While the presenting authors and primary authors were women, the conference saw attendance from both men and women. More than 20 women presented 14 technical papers and 2 tutorials.
Ms. Shalini Kapoor, Director and CTO – Watson IoT and Education at IBM, one of the keynote speakers, talked about how AI is changing the world of IoT. The second keynote, delivered by Dr. Susmita Sur-Kolay, Professor at Indian Statistical Institute, Kolkata, focused on Quantum Computing.
The day-long conference covered areas such as design, IP, verification, test, software and systems aspects across diverse fields such as:
IoT: Industrial, Medical and Wearables
Automotive : Radar, Safety, HEV
Smart Energy
Computing – Hyperscale, Cloud, Cognitive, Mobile edge, Quantum
Artificial Intelligence and Data Analytics
Personal Electronics
Commenting on the conference Roopashree HM, Director- Analog, EDA, Texas Instruments India and Chair for WINTECHCON said, "Most women technology conferences focus on issues such as diversity, networking, managing your career and the like. These issues are important and need to be addressed, but we wanted to organize a full-fledged technical conference, where women discuss engineering, innovation and future trends. We saw great talent, ideas and discussions, which shows that women technology leaders need to step forward more often, be visible and actively participate in tech conversations. As an engineer who loves technology, this conference was both inspiring and rewarding."