The Industrial Control Systems Security Market is set to grow from its current market value of more than $1.5 billion to over $7 billion by 2024; according to a new research report by Global Market Insights, Inc.
The ICS security market growth is attributed to the increasing incidents of cyber-attacks on critical infrastructure industries. Constantly evolving cyber threats, such as ransomware and viruses, can adversely affect production processes in critical infrastructure environments resulting in large-scale financial losses for the companies.
The endpoint security segment held a majority share of around 40% in the ICS security market in 2017 due to large-scale deployment of endpoint security solutions in critical industrial environments for securing different endpoint devices in the industrial networks that remain vulnerable to cyber threats. The network security market is projected to exhibit a robust growth with a CAGR of around 26% between 2018 and 2024 due to the increasing incidents of network breaches in critical industrial sectors leading to large-scale production losses for the enterprises as well as increased concerns for national security.
The energy sector held a major share of nearly 40% in the ICS security market in 2017 and is expected to maintain this market dominance throughout the forecast period. The increasing incidents of cyber-attacks on the energy industry including gas pipeline infrastructure, oil & gas platforms, and power utility infrastructure are majorly contributing to the growing emphasis on securing critical energy production and distribution networks. Government agencies are taking appropriate measures to secure critical national energy infrastructure from terrorist attacks that could lead to a major economic loss.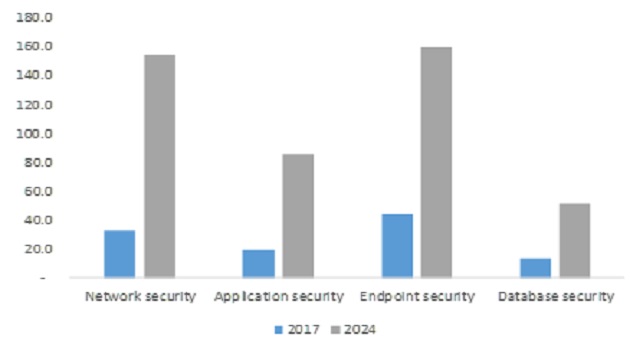 North America Industrial Control Systems (ICS) Security Market Size, By Security Type, 2017 & 2024 (USD Million)
The National Cybersecurity and Communications Integration Center (NCCIC) under the U.S. Department of Homeland Security continuously strives to reduce the risk of cybersecurity challenges to the critical national infrastructure. With the consistent focus on maintaining a secure and robust cyber and communications infrastructure, such government agencies are encouraging the development of deploying advanced ICS security solutions.
Some of the key players operating in the ICS security market are ABB, BAE Systems, Bayshore Networks, Belden, Cisco, Cyberbit, Dragos, Fortinet, General Electric, Honeywell, IBM, Kaspersky, Nozomi Networks, Rolloos, FireEye, McAfee, Claroty, Raytheon, Schneider Electric, SecurityMatters, Symantec, and Trend Micro.