For an autonomous electric vehicle, power conversion is of paramount importance to ensure its efficiency. The electrical power varies at different levels while it is being generated, stored, and consumed. All the steps in the process use ferrite cores for a range of functions, such as energy storage, noise filtering, self-shielding, and conversion. That requires the use of soft magnetic materials, like ferrite cores, which are growing in the Electric & Hybrid vehicles industry. High frequency and excellent magnetic properties are some of the major idiosyncracies of these cores. They have low core losses and high permeability which helps EVs to achieve high charging efficiency for their rechargeable cells.
As electric vehicle manufacturing is picking up the pace so is the charging station infrastructure and efficient ferrite cores for these charging stations and individual chargers would play a very crucial role in the entire electric vehicle ecosystem.
For more on this, ELE Times had a great opportunity to speak with Vikas Puri, Business Head, Cosmo Ferrites Limited. Excerpts: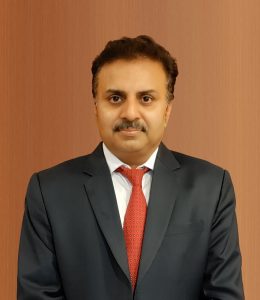 ELE Times: EV is an emerging and revolutionary sector. We would like to know the role of ferrites in EVs and how Cosmo Ferrites are contributing to the EV surge in India.
The emergence of e-mobility has caused a major shift in the Indian automobile industry. By 2030, the electric vehicle market is expected to grow at a CAGR of 43 per cent. The charging infrastructure is also expected to grow at a similar pace. EVs are gaining popularity with the support of the government's incentives under the Faster Adoption and Manufacturing of (Hybrid) and Electric Vehicles (FAME)-II Scheme, as well as other tax benefits under state EV policies. This will give impetus to the ferrite demand as Ferrite cores are used in a wide range of functions in the Electric Vehicle's system which includes energy storage, noise filtering, self-shielding, and conversion.
Cosmo manufactures ferrites that are employed in EV infrastructure for various use cases. Cosmo Ferrites manufactures ferrite cores for a variety of applications in electric and hybrid vehicles, including battery management systems, wireless chargers, and vehicle security systems.
ELE Times: Battery Management systems are a predominant part of an EV and ensure protection and safety. Will you please elaborate on the use of ferrites in the same?
A Battery Management System (BMS) is used to guarantee that the battery is safeguarded and that operations that exceed its safety limit are avoided. It keeps track of the battery's charge level and overall health. Additionally, BMS handles battery optimization through cell balancing, which lengthens the battery's life cycle. The BMS uses ferrite cores extensively to improve performance.
ELE Times: EV Charging infrastructure needs a considerable amount of development. Ferrite cores are essential to ensure magnetic flux guidance and self-shielding. Is Cosmo Ferrites working on any recent development to enhance the charging infrastructure?
Cosmo Ferrites is investing heavily in future generation products. In this endeavour, Cosmo R&D has developed high permeability cores and also cores that can operate at different frequencies. A category of Ferrites produced by Cosmo enables fast and low loss charging at high currents for EV Charging stations. Cosmo is also working very closely with the next-generation contact-less chargers and has developed ferrites around the same.
ELE Times: Please specify the applications of Soft ferrites that are extensively used in Electric & Hybrid vehicles.
In electric and hybrid vehicles, ferrite cores are extensively used for various applications such as Battery Management systems, Access Controls Lighting, Chargers, Power Trains etc.
In the lighting, application ferrites are used in LED and HID-powered electronics.
BMS serves as a crucial connection between on-board batteries and other components of electric vehicles, such as the vehicle control unit (VCU). Ferrite cores are used in the BMS to improve performance and efficiency levels
In wireless chargers, ferrite is used to boost magnetic flux, These are chosen when creating high-power wireless charging coils for electric vehicles (EVs) to increase the coils' self-inductance. This increases the wireless transmission range and efficiency.
A car security system protects the car from break-ins and theft. These systems' antenna coils are made of ferrite cores. They are perfect for a variety of things, including energy conservation, security, comfort, and downsizing.
ELE Times: Cosmos Ferrites, the standing pillar in the manufacturing of soft ferrites since 1986. What are your expansion plans for this year?
Cosmo Ferrites will continue to focus on acquiring new clients and discovering new uses for our goods in order to gain a larger proportion of the global market. Cosmo invested in New Kiln in FY 23 which has increased Cosmo's capacity by 50%. (2400 MT per year to 3600 MT per year).
To fulfil the rising demand from customers for ferrite cores with increased permeability, we are also making an investment in a top hat kiln in FY 23 which will be operational by Q4. The Top Hat Kiln will give an additional capacity of an annual 300MT and thereby taking Cosmo's overall capacity to 3,900MT / annum.