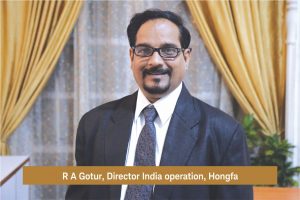 R A Gotur, Director India operation, Hongfa, is an epithet for marketing and sales for Hongfa in India. ELE Times has a conversation with him on Hongfa's business and preparedness in the backdrop of changed electronics policies and demonetisation in India. Excerpts.
ELE Times: Apprise us of Hongfa's strength as manufacturer and why Hongfa's products are the most sought after one in the market?
R A Gotur: Hongfa is a leading and state of the art manufacturer of electromechanical relays and is ranked No.1 in China and No.1 in Power and Latching relays globally. Founded in 1984, Hongfa specialises in developing, manufacturing and promoting relays. With a factory space of around 7,50,000 sqm and a 250,000 sqm new plant being set up, Hongfa has an annual production capacity of 1.5 billion relays of 160 series and 40,000 specifications. It has 38 wholly or partially-owned subsidiaries including Hongfa Europe GmbH and Hongfa America Inc.
On R&D Centers: The company has a state level technical centre for post-doctoral research, an academician research station and a testing and experimenting centre for relays and related products that is recognised by Underwriters Laboratories (UL), VDE and China National Accreditation Service for Conformity (CNAS). It has also been actively involved in formulating multiple national standards.
Quality control system: Hongfa relays are currently being exported to over 100 countries. Hongfa's quality control system conforms to ISO/TS16949 standards. It has the biggest product testing centre in China which is certified to undertake TUV and UL tests, and has VDE approval in China. This centre has signed a contract with VDE for preferred partnership. The company's lab is approved by CNAS and UL America as a Witness Test Data Program (WTDP) lab. It is also approved by VDE Germany as a Test Data Acceptance Program (TDAP) – lab, the only one in China and the sixth one in the world. It has a full set of quality assurance systems including ISO9001, ISO/ TS16949, ISO14001, OHSAS18001, GJB9001A, and IECQ QC 080000.
On Awards: Hongfa has received many awards, including being ranked among the 'Advanced High-tech Enterprises on the National Torch Plan' by the Ministry of Science and Technology, and among the 'National Export Base for Automotive Components' from the Ministry of Commerce and the National Development and Reform Commission. It is the only Chinese relay manufacturing company to be ranked as 'China's Top Brand'.
ELE Times: How important is Indian market for Hongfa?
R A Gotur: India has the second largest GDP among the emerging economies with predicted growth rate of at least 7% in 2016 -17 and 7.5 to 8% in the next fiscal year i.e. 2017-18. The growth potentially has the capacity to attract companies for application across industries. Hongfa, having the state of the art products, has a massive demand potential in the time to come. Hongfa believes that India has made rapid strides in the last couple of years in the field of engineering and technology. A number of multinational companies are investing in India and opening R&D centres in metro cities like Chennai, Hyderabad, Bangalore, Pune and Delhi. Moreover global organizations have benefited from the huge professional and skilled engineering manpower available in Indian market. Therefore, Indian market is of utmost importance for Hongfa.
ELE Times: What are your plans for strengthening brand value in India?
R A Gotur: Hongfa is a known for quality products and wide range and has big base of customers in India. Besides advertising through various media to create brand awareness, we build credibility for our brand by knowledge sharing. Hongfa nurture the incumbent and stalwarts of the industry by close coordination with the people by sharing technical knowhow through exhibitions and print publications.
ELE Times: How do you support your distributors?
R A Gotur: We support and communicate our distributors on a daily basis with regard to marketing, technical enquiry, logistics and sales support. We visit our distributors regularly and provide onsite technical and commercial support during their customer visits. A close relationship with our customers and a concerted effort together with the distributers help us understand market demand, customers and the sources of business. We ensure to keep our distributors well informed of the existing and new products well in advance.
As far as the business is concerned, Hongfa distributors are doing excellent job – particularly Millennium Semiconductors, Pune and Saboo Components LLP, Mumbai (Formerly Vikas Electro Sales). They are providing good service and technical support to Hongfa customers and hence doing handsome business for themselves.
ELE Times: What is your future plan for the growth of business in India?
R A Gotur: We have aggressive plans for future growth in India. We have identified few areas where Hongfa will focus for future growth. Power Electronics, Consumer Electronics, Automotive, Light and Smart meter segment are such growth areas. Adding manpower in due course of time in India is going to be our focus for future growth. Hongfa aligned our strategies and resources in these areas to reach target for future growth.
ELE Times: What is the Impact on Hongfa business in India after demonetization?
R A Gotur: After demonetization Hongfa sales has dropped by 75-80pc. I think Indian economy will take at least another year as course correction. Hence the year 2017 may not be a fair time for Hongfa business in India.
ELE Times: What are the advantages and disadvantages you feel about demonetization?
R A Gotur:
Advantages:
The main advantage and the purpose of demonetization is black money tracking from the individuals who had piled up cash without valid financial transactions for a long time.
Demonetization has stopped terrorism funding, fake currency circulation and betting.
The accumulated unaccounted money will come under tax net.
The Jan Dhan Yojana introduced by prime minister gives opportunity to people to deposit their unaccounted money which in turn can be used for the development of the country.
Disadvantages:
Real estate has been badly affected and the economy has hit all time low.
farmers are not able to buy seeds for cultivation as they don't have bank accounts and their day to day transactions are mainly by cash. As per statistics 40% people do not have bank accounts.
The labourers who are working in the construction and other departments like tea estates, Small scale industries have lost their jobs. The employers are not able pay the daily wages as the cash is not available with the banks.
Apart from the above problems people are facing practical problems by standing in the queue for long hours leaving all their jobs and hundreds of them died standing in the queue in ATM'S/Banks .
ELE Times: What is your suggestion for rectifying the issues?
R A Gotur:
I think Govt of India could have printed small denominations notes – say 100, 50, 20, 10 much in advance before demonetizations.
Calibration of ATM's could have done much in advance to avoid cashlessness in the country.
Digital awareness could have brought in advance particularly in rural areas.
Ensure Cyber Crime awareness/Security System to the public (Hacking).
ELE Times: How do you rate ELE Times magazine and what are your suggestions?
R A Gotur: ELE Times is a comprehensive magazine providing the finest perspective of the electronic industry in India and overseas. Over the last six years ELE Times has kept the most innovative approach towards dissemination of information and has always added new dimensions to the media activities for promoting Indian electronic industry as a brand. The most bright and glaring example is 'Spotlight on Indian Electronic Industry-2016'. The book has been widely acclaimed by the government and the industry circles.